This is one of the first tables we started selling when we opened over 20 years, and it's a can't miss classic for your home or park area. We make this gorgeous Wood Picnic Table with Attached Bench from 100% high quality timber that's taken from restored forestry trees. We also build our tables extra thick, ensuring a longer lifespan, more use, and hours of saved time on maintenance and repairs.
Available in tabletop diameters from 4 ft to 6 ft. Can seat up to 12 large adults comfortably.
Combining simple geometry with traditional thick-timber picnic table construction for decades of enjoyment.
Tailor the picnic table to your tastes with our many options: tabletop style, attached or unattached benches, bench styles, umbrella holes, leg wheels, stains/sealants, etc.
Materials to last a lifetime: our extra thick Redwood that outlasts cedar/teak, stainless hardware and the best weather resistant sealants.
Warranties up to 30 years: click here to learn more
Simple Assembly: for more details visit the Assembly & Care tab above
To learn all the nitty gritty details, click on the Specification tab above
To get your Octagonal Picnic Table, simply select your size, style, and wood type from our drop down menu up top. We can customize your order specifically for you, and will hand build it ourselves, to be shipped right to your door. We also back up your purchase with an incredible warranty, and quality guarantee that ensures years of intense use, and enjoyment. Contact us now to find out more.
OCTAGONAL PICNIC TABLE SPECIFICATIONS (PDF DOWNLOAD)
ATTACHED OR UNATTACHED BENCHES
Octagonal Picnic Tables are available with Attached or Unattached (Separate) Benches. Attached Benches are built into the table, while Unattached Benches are four free-standing benches in the Round Picnic Bench style.
DIMENSIONS & DRAWINGS
Octagonal Picnic Table Dimensions
The tables are substantially overbuilt to last. All tabletop boards are 1 7/8" thick. The 4 ft and 4.5 ft tables have legs made with extra thick 1 7/8" x 5 3/4" timbers. The 5, 5.5 and 6 ft tables have legs built from 2 5/8" x 5 3/4" timbers. Tables with attached benches use timbers under the table to hold the benches. If you plan to use an umbrella stand, keep in mind these timbers limit umbrella stand height to 12.5" or less. Table seat height (H1) is 16 7/8" and tabletop height (H2) is 30 1/2" for any diameter. If you require a custom size for your furniture, please let us know. In almost all cases we can accomodate your needs.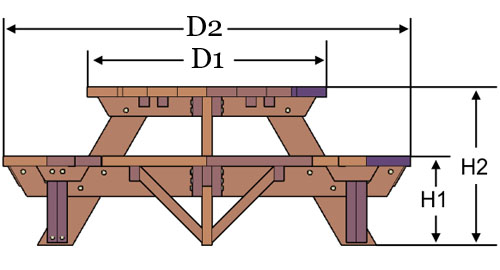 Front View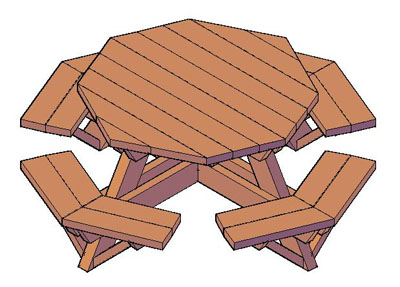 Isometric View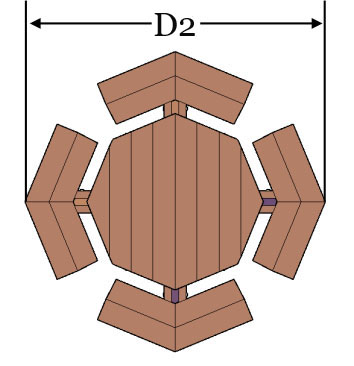 Top View
*Drawings above show a 4.5' Diameter Octagonal Table.
4-Foot Octagonal Picnic Table
46" Diameter Tabletop x 30.5" Height, 79" Diameter with attached benches.
4.5-Foot Octagonal Picnic Table
54" Diameter Tabletop x 30.5" Height, 84" Diameter with attached benches.
5-Foot Octagonal Picnic Table
57.5" Diameter Tabletop x 30.5" Height, 86" Diameter with attached benches.
5.5-Foot Octagonal Picnic Table
66" Diameter Tabletop x 30.5" Height, 94.5" Diameter with attached benches.
6-Foot Octagonal Picnic Table
72" Diameter Tabletop x 30.5" Height, 100" Diameter with attached benches.
| Table Diameter | Approx. Weight of Table Alone | Approx. Weight of Table with Attached Benches | Approx. Weight of Table with Unattached Benches |
| --- | --- | --- | --- |
| 4-foot | 120 lbs. | 260 lbs. | 200 lbs. |
| 4.5-foot | 130 lbs. | 285lbs. | 230 lbs. |
| 5-foot | 175 lbs. | 330 lbs. | 300 lbs. |
| 5.5-foot | 200 lbs. | 380 lbs. | 340 lbs. |
| 6-foot | 240 lbs. | 440 lbs. | 400 lbs. |
Number of Adults Who Can Dine Comfortably
Table Diameter
Capacity
4 ft
6
4.5 ft
8
5 ft
10
5.5 ft
12
6 ft
14
What about the corners?: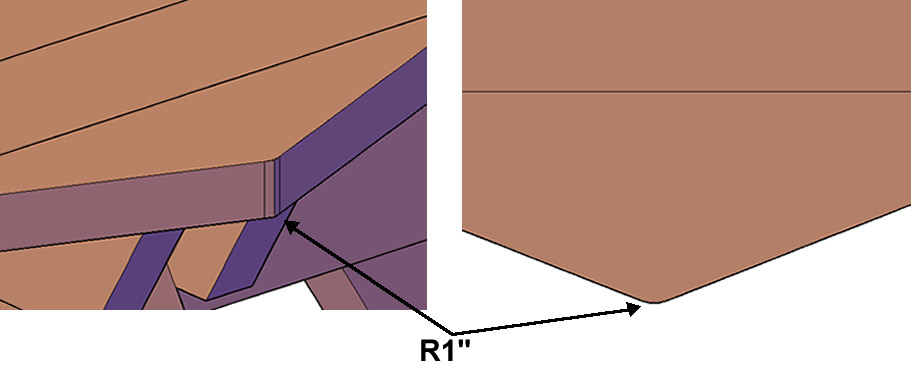 By default all table and bench top corners are rounded for safety reasons. If you prefer less rounding or another diameter of rounding, please just let us know. Thank you.
Assembly Instructions for: Octagonal Picnic Table - Attached Benches
Assembly Instructions for: Octagonal Picnic Tables - Unattached Benches
Assembly Instructions for: The V-Wing Benches
Simple, Easy Assembly

Furniture assembly should take half a day or less. Sets ship in less than 15 parts. Tabletop and benchtops always ship assembled. Just add the legs and supports and enjoy.As with all our products, we preassemble our furniture items in our shop to ensure everything fits together. All hardware is included and all parts are clearly labeled before it is shipped. We also include detailed step-by-step instructions.
Take a look at our assembly instructions above for specific details.
Installation Help.
Special talent is not required to re-assemble any of our furniture items or outdoor structures. If you would like help, just let us know. Our installation team is available in the continental US (excludes HI & AK)
Care: You should expect your furniture to last outside for a minimum of 10-40 years without maintenance, even in climates with harsh year-round conditions. Because of our high quality wood, the silver patina that will naturally occur is surface deep (less than 1/64") and is not indicative of decay. We keep our display items without refinishing as examples show off their natural aging. We like the patina! If you'd like to keep your set looking its best for decades please visit: Care and Finish.