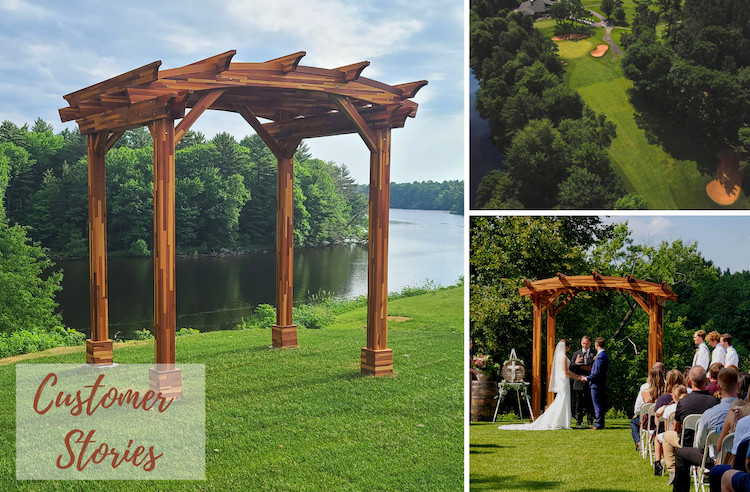 For almost 100 years, Bullseye Golf Club in Wisconsin Rapids, WI has been the site of countless golf tournaments and social events. But despite its long history, Bullseye is anything but stodgy. In 2020, the club made a bold pivot from a members-only organization to a more inclusive model that engages the community and welcomes the public.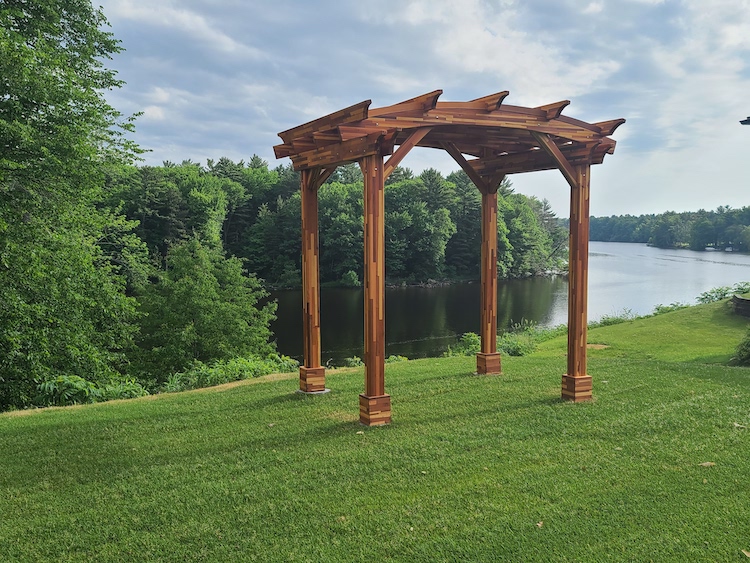 Arched Pergola Kit in mosaic eco-wood, recently installed at Bullseye Golf Club.
According to JT Thompson, Bulleye's General Manager, a recently installed Forever Redwood Arched Pergola reflects this change. "There's a different look and feel to the wood. It has more of a casual feel and fits what we're trying accomplish…moving from the old country club model to a fun, hip kind of place."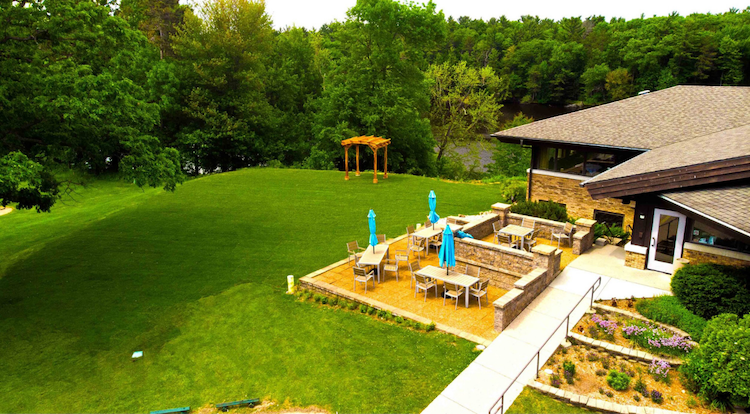 Pergola and clubhouse.
The 10 ft. x 8 ft. pergola sits next to the clubhouse atop a gentle slope overlooking the Wisconsin River. The warm, varied tones of the mosaic eco-wood are a natural complement to the lush landscape and Bullseye's vibrant event lawn. Once a putting green, the beautifully manicured lawn is now the site of festivals and live music.
From a customer perspective the experience with Forever Redwood was outstanding…we were really impressed. And the final arched pergola turned out fantastic, with on-time delivery. – JT Thompson, PGA General Manager/Head Golf Professional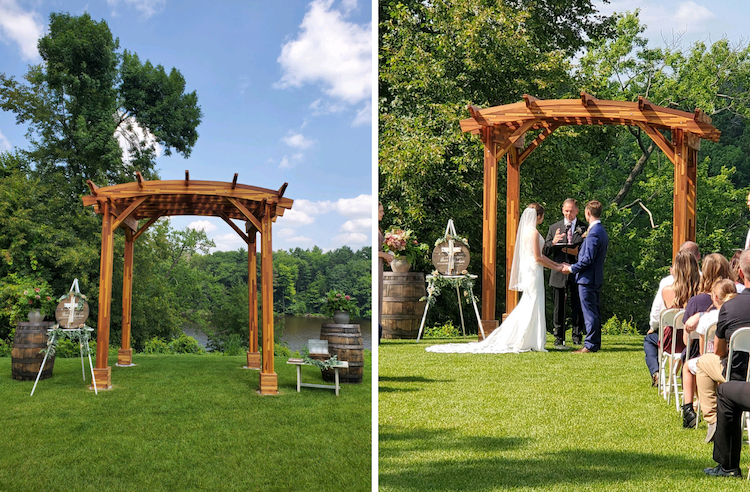 Wedding on the event lawn.
The event lawn also offers an unforgettable setting for weddings, one of the club's core offerings. JT and the rest of the management team hope to grow this part of the business. "We used to average 13 to 14 weddings per year. Our goal is now 20 to 22." To that end, the club reapportioned half of the women's locker to create an elegant and inviting bridal suite. They also invested in the Forever Redwood Arched Pergola. "Before, our only option was a temporary shade structure that was a mere 36 in. wide. Wedding couples often chose to bring their own arbor or pergola."
The Forever Redwood Arched Pergola is now a permanent feature on the event lawn, offering shade to newlyweds, festival goers, and folks enjoying views of the Wisconsin River — a reminder of the community-oriented values that will guide Bullseye Golf Club's next 100 years.
Enjoy a fun flyby of the pergola with the below drone footage, courtesy of Bullseye (you can also view the video here on Bullseye's Facebook page).
Call (866) 332-2403 to get started on the shade structures of your dreams. We welcome your custom requests!
Photos and video courtesy of Bullseye Golf Club
Citations