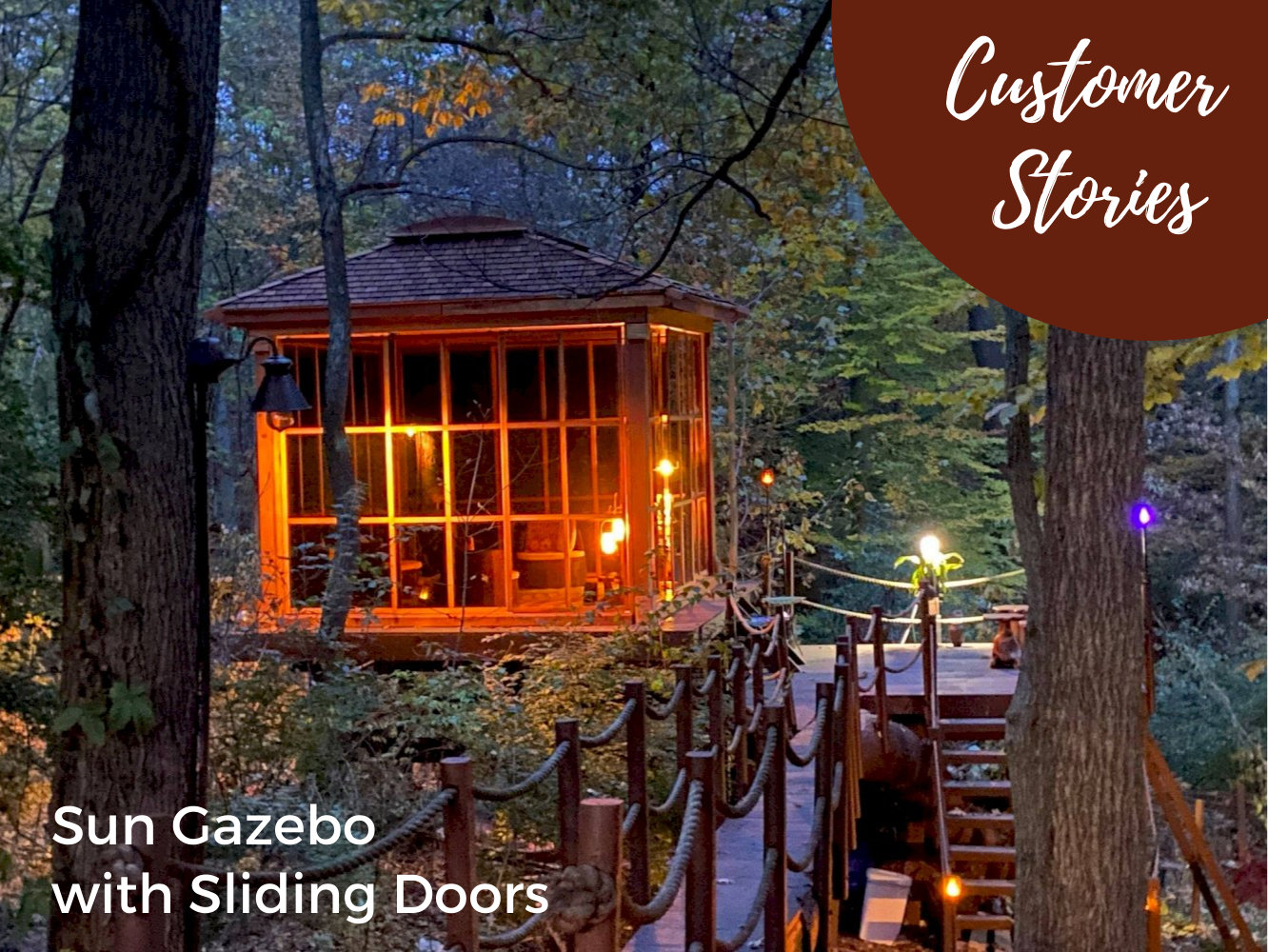 Mehrooz (Dr. Zee) and Carolyn's photo above tied for 3rd place in Forever Redwood's 2021 Photo Contest
---
Carolyn and Mehrooz (Dr. Zee) were heartbroken when a beloved 120 ft. maple tree cracked so severely that it needed to be felled. The tree was part of a forest of black locust, maple, black cherry, and white ash situated behind their home in Presto, Pennsylvania.
According to Carolyn, "Our primary concern was directing it in such a way that it would fall away from the house and into the woods."
Once the maple was felled, the sight of the trunk on the forest floor gave Dr. Zee an idea. Drawing upon his expertise as a scientist engineer, he soon transformed the trunk into a partially elevated walkway leading to a wooden deck, complete with tiki torches and patio chairs.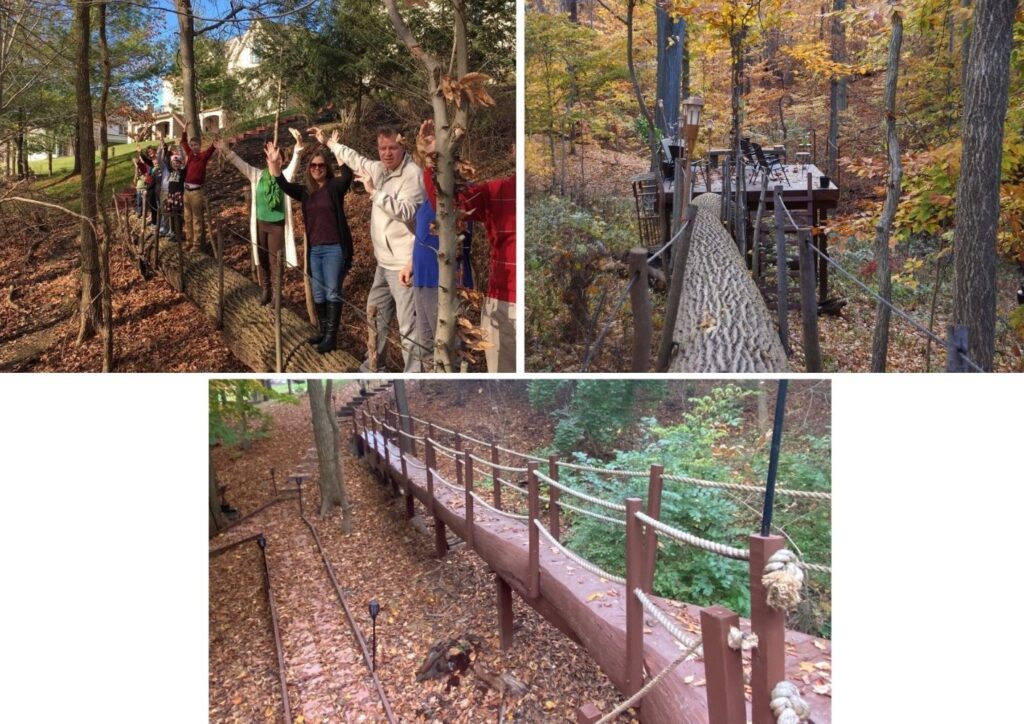 Top: Raw, untreated trunk walkway. Bottom: After treatment and reinforcement.
From there, the project continued to evolve. The raw bark tree trunk was sectioned and treated for stability and longevity. The handrails were reinforced. An adjacent platform was erected to support a small structure.
But it would take several years, and some experimenting, before Carolyn and Dr. Zee's enchanting "horizontal treehouse" would come to fruition.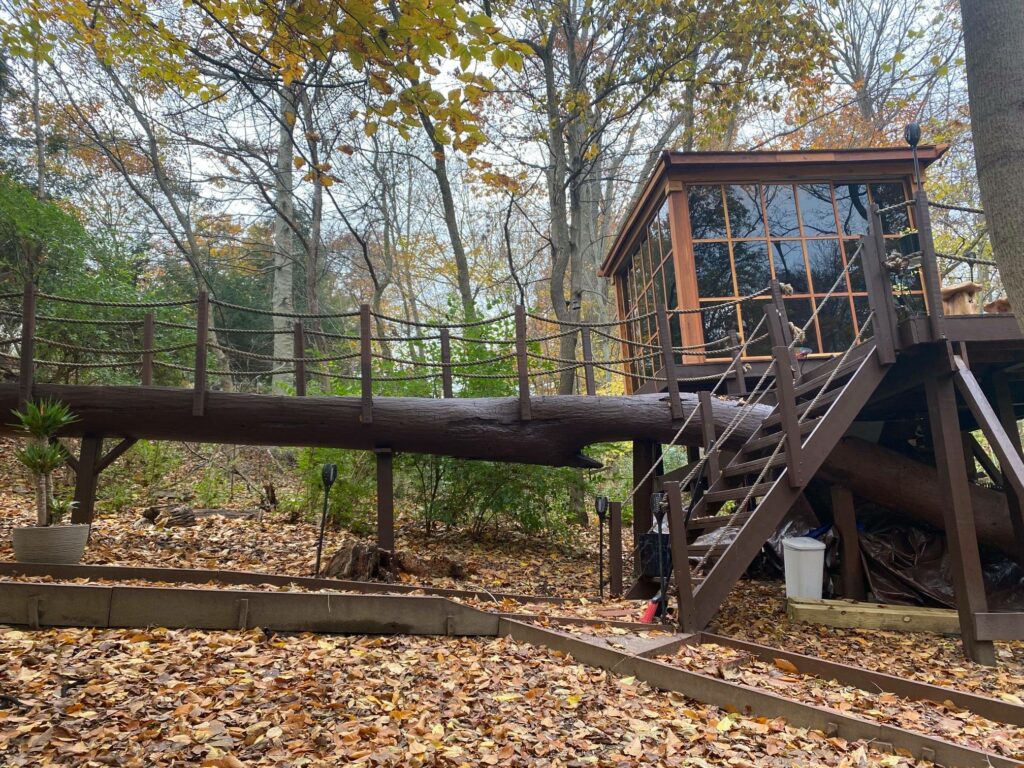 Carolyn and Dr. Zee call their Sun Gazebo With Sliding Doors a "horizontal treehouse."
The vision for the treehouse was a small weatherproof structure designed to integrate with the surrounding woods. Ideally, the interior of the structure would retain the immersive experience of the outdoors while keeping folks comfortable.
Carolyn and Dr. Zee first tried a transparent geodesic "bubble" treehouse. The structure offered panoramic views of the forest. But after using the dome for a while, they realized more interior space was needed.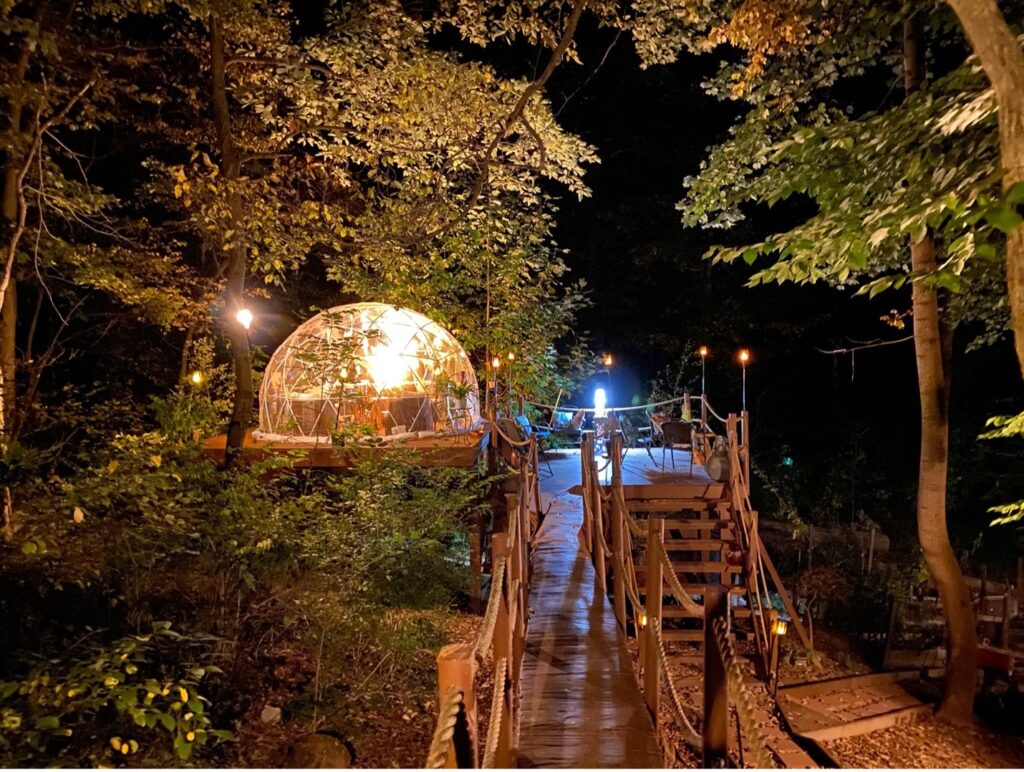 Bubble Treehouse
While surfing the web for inspiration, Dr. Zee found Forever Redwood and The Sun Gazebo with Sliding Doors. Not only were the dimensions customizable, the sliding doors featured top-to-bottom windowpanes. Carolyn and Dr. Zee would be able to transition between open air and secluded privacy without compromising the immersive forest experience.

Sliding doors with transparent bronze acrylic panes enable a seamless transition between open air and secluded privacy.
After considering options for customization such as wood grade, sealants, flooring, and roofing, Carolyn and Dr. Zee worked with Forever Redwood's design team to finalize the details of their dream treehouse — a 12 ft. x 12 ft. structure with 9 ft. walls in California Redwood with wood shingle roofing.
Once the treehouse was installed, both the design and the warm tones of the California Redwood harmonized beautifully with the surrounding woodland landscape.
"We had choices. But we decided to spend a little more and make it a shingle roof that blends in with the environment." Dr. Zee said. "The roof shingles are just gorgeous."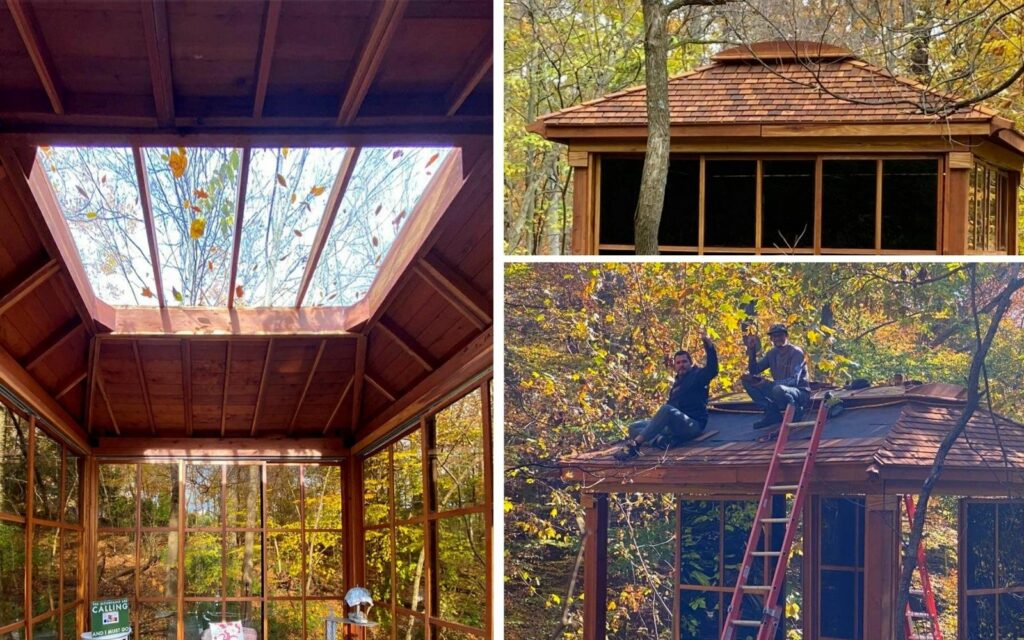 Left: Interior skylight. Upper right: wood shingled roof. Lower right: Forever Redwood installation crew. "They did an excellent job." -Dr. Zee
Inside the gazebo, the forest is ever-present, whether the sliding doors are open or closed. Transparent bronze acrylic window panes offer unobstructed views so visitors feel as if they're perched among the trees. A 4 ft. x 8 ft. skylight enhances this effect.
For Dr. Zee, this is a unique aspect of the structure. "I know of no other treehouse that has anything like this. It blends with the environment. And you can look around whenever you want by opening the sliding doors or looking out of the skylight."
The couple's crowning addition to the treehouse was enabling a smart house system. "If I want to warm up the treehouse, I can turn it on before I go down there," Dr. Zee said. This comes in handy when the couple entertains in the treehouse during the cold winter months.

The treehouse's smart features come in handy when entertaining in cold winter months.
And has the treehouse project reached its final iteration?
"This is not the end of it!" Dr. Zee said. He and Carolyn plan to use the treehouse and adjacent platform as observation points for a living "tree museum." The surrounding trees will be identified by species, age, and other characteristics, possibly with the use of QR codes. "We will create a museum of Pennsylvania trees for kids and parents, something to remember forever."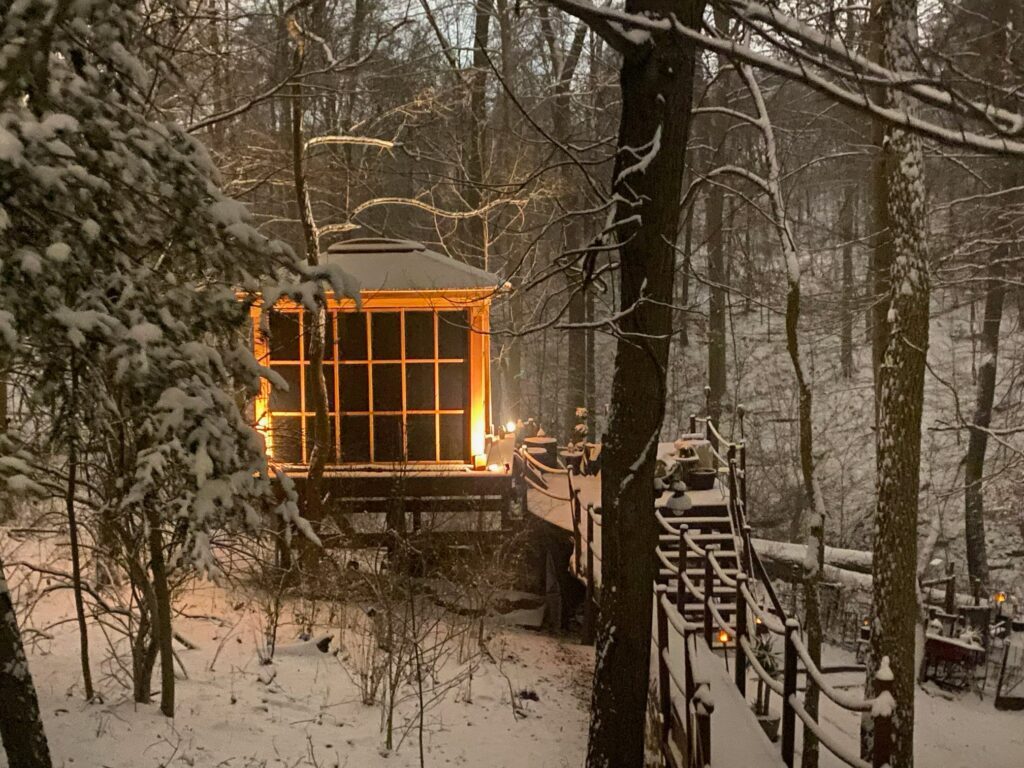 "When you are there with snow all around you it is just like a dream." – Dr. Zee.
Photos courtesy of Carolyn and Dr. Zee.