Our Gazebo with Sliding Doors can be as private or open as you want, with sliding doors that open up two full walls to the outside. We also offer tinted windows for added privacy for when your doors are closed, and can customize your DIY Redwood Gazebo Kit to give it the perfect fit on your property, no matter where you live.
The Sun Gazebo can be made any size up to 20' x 20'.
Each wall/window panel slides on its own track for maximum flexibility. You can choose for some or all the walls closed. Or, you can slide and stack panels one behind the other to open up any wall as much as you like. You can also easily remove the panels to create an open pavilion on any or all sides.
Detailed Drawings are emailed within 5 business days. You can change any detail or dimension to ensure your Gazebo will work perfectly for you.
Every Gazebo is custom built: You can choose from our standard sizes and options. If you don't see a size or detail you'd like, let us know.
Options include: Acrylic Window Color (Bronze tinted, White or Clear), Window screens, Wood flooring, and Skylight size options.
Roofing: You have many options for your Gazebo's roof. You can have a shiplap roof (overlapping wooden roof boards), or you can choose a standard option like metal asphalt shingles. The shiplap roof is the traditional option, and is very beautiful although it requires regular cleaning and resealing while the standard roofing options like metal and asphalt hold up well for decades with only an occasional light power washing to clean up.
Strong and Sturdy: Solar panels are no issue to add on top. Our Wood Gazebo kits are strong enough in their standard design to withstand 60mph winds in most cases and a moderate snow load. If planned for a heavy snow or high wind area, we can add structural strength during the design phase.
Our wood Gazebo Kits are guaranteed to last decades. Redwood outlasts teak and cedar. We use oversized timbers, Stainless Steel hardware, and the best weather resistant sealant available on the market.
Installation: Once you sign off on your drawings, your Sun Gazebo is fully erected and finely finished in the shop. All the stainless steel hardware is included. Just bolt the timbers back together. See the Assembly & Care tab above for more information.
You Install or We Install? Choose the White Glove Assembly as you check out to have one of our crews onsite to do the heavy lifting for you. Our White Glove Assembly is available in all 50 states. This service includes assembly, anchoring, and important additions like adding flashing, curtain rods and roofing. White Glove Assembly costs anywhere between 25-45% of the cost of your structure. We are happy to provide a specific quote for you during the Design process as we finalize the details together. If you have an old structure that needs to be taken down and disposed of, let us know. We can generally add this to the scope of work.
Turnaround Time & Financing: We can build in 2-3 weeks, but we recommend ordering 2-3 months in advance to give you time to fine tune each detail via our design and drawing process. You can take advantage of our 1/3rd deposit option to spread the cost over several monthly payments.
Bring back the Old Growth Forests: Your purchase supports restoration forestry projects in the Redwood Forests of Northern California. Find out more about how it is actually necessary to cut some trees down in order to recreate the Old Growth ecosystem!
Each sliding door panel has rubber seals added to ensure the structure remains watertight year round.
Like all of our Forever Redwood Gazebos, the Gazebo with Sliding Doors can be used in all seasons, under nearly any weather conditions. Send us your specific requirements and we can have your detailed plans sent back to you within three days. Our kits are easy to assemble and typically take a day to set up. If assembly just isn't in the cards for you, no problem, we can send an install team to help you set it up. Give us a call today to find out more.
DIMENSIONS & DRAWINGS
| L x W (Ft.) | Sq. Ft. | Wt. Range (Lbs.) | Std. Skylight (Ft.) |
| --- | --- | --- | --- |
| 8 x 8 | 64 | 672 to 800 | 4 x 4 |
| 8 x 10 | 80 | 840 to 1000 | 4 x 4 |
| 8 x 12 | 96 | 1008 to 1200 | 4 x 6 |
| 8 x 14 | 112 | 1176 to 1400 | 4 x 8 |
| 8 x 16 | 128 | 1300 to 1540 | 4 x 8 |
| 10 x 10 | 100 | 1050 to 1250 | 4 x 4 |
| 10 x 12 | 120 | 1260 to 1500 | 4 x 6 |
| 10 x 14 | 140 | 1470 to 1750 | 4 x 8 |
| 10 x 16 | 160 | 1575 to 1875 | 4 x 8 |
| 12 x 12 | 144 | 1512 to 1800 | 4 x 8 |
| 12 x 14 | 168 | 1764 to 2100 | 4 x 8 |
| 12 x 16 | 192 | 2016 to 2400 | 4 x 8 |
| 14 x 14 | 196 | 2058 to 2450 | 4 x 8 |
| 14 x 16 | 224 | 2352 to 2800 | 4 x 8 |
| 16 x 16 | 256 | 2688 to 3200 | 4 x 8 |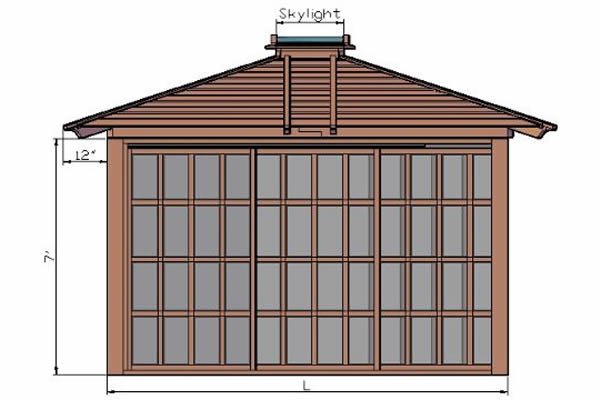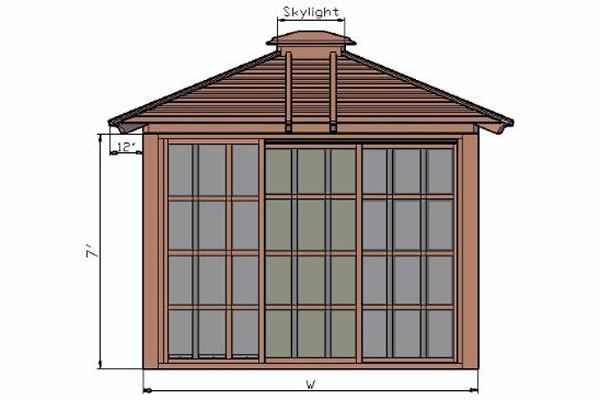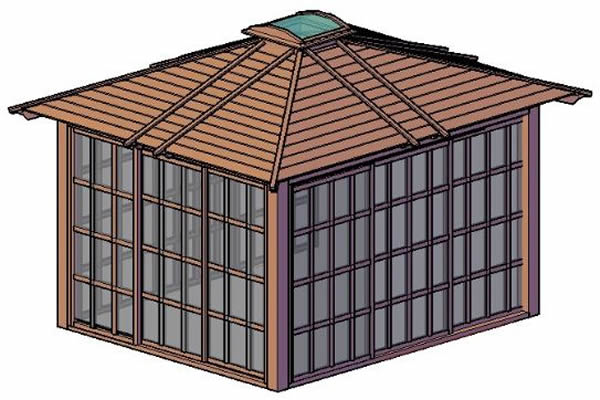 Standard Height is 7' (see drawings below). We can customize our gazebos to suit your needs. Just tell us what size and options you want. Prior to building any Gazebo, we provide our customers with a detailed drawing based on their proposed features. This allows you to review and make needed adjustments before building. Drawings are a great way to consider each detail to be certain that you Gazebo will be exactly what you dreamed of.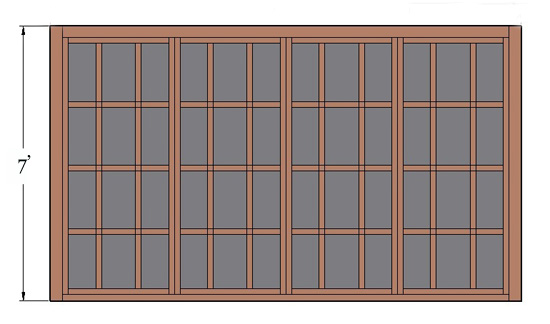 Assembly Instructions for: Sun Gazebo with Sliding Doors
Assembly Instructions for: Typical Assembly instructions for an average sized Sun Gazebo with Sliding Doors (shown is a 16' x 14' size)
Assembly Instructions for: Typical Assembly instructions for an average sized Sun Gazebo with Sliding Doors Steel Roof (shown is a 16' x 10' size)
Our White Glove Assembly is a complete onsite assembly and anchoring service. The cost varies between 25 - 35% of your structure's overall cost and includes all materials: footings work, concrete, equipment rental if needed, and standard roofing materials if needed. Our installation teams are now available in all 50 states!
DIY: For moderately-sized structures (up to 400 sqft.), some of our customers choose to save money by doing the assembly themselves. In general, the larger the structure, the more people and time you will need: we recommend a minimum of 3 people. If you have assembly questions, just give us a call!
Care: You should expect your furniture to last outside for a minimum of 10-40 years without maintenance, even in climates with harsh year-round conditions. Because of our high quality wood, the silver patina that will naturally occur is surface deep (less than 1/64") and is not indicative of decay. We keep our display items without refinishing as examples show off their natural aging. We like the patina! If you'd like to keep your set looking its best for decades please visit: Care and Finish.