Happy New Year! I'm reaching out with an update on our crowdfunded forest restoration project — including our final call to become a conservation-investor, and a January 26th (next Saturday) Q&A Video Call where you can ask me questions about the project.
At the end of this post, I'll also share 4 reasons to be optimistic about climate change.
Forest Restoration Project Update
Last November, I issued an invitation for folks to partner with me in the purchase and restoration of a 42-acre parcel of forestland. The restoration process will have a direct impact on climate change by protecting in perpetuity the natural global cooling capacity of the parcel's Redwood forest. It will also reduce the risk of catastrophic forest fires.
I issued the invitation with a profound sense of urgency. I'd just read the UN report on climate change, and wildfires were raging in my home state of California. I was motivated by the huge body of evidence that identifies forests, especially old-growth Redwoods, as one of our most powerful resources in the fight against global warming.
In subsequent emails, I shared information on:
As of today, 41% of the funds to purchase the 42-acre parcel have been committed by conservation-investors. We plan to begin restoration as soon as escrow closes in February. Investors will receive tax benefits and make small returns as the forest yields a modest portion of its bounty as part of the restoration work.
Our current group of conservation-investors is comprised of six individuals and families, several of whom have offered to increase their commitment if we are a bit short. If no one else is able to join in the effort at this time, between these investors and myself, we will complete the project. The stakes are too high to let this opportunity pass.
That said, participation will remain open to accredited investors until mid-February. If you share our vision, please reply directly to this email with your interest.
You're also invited to join me for a video Q&A session for the crowdfunding project next Saturday, Jan. 26th, 10am-12pm PST. Register here to receive participation info.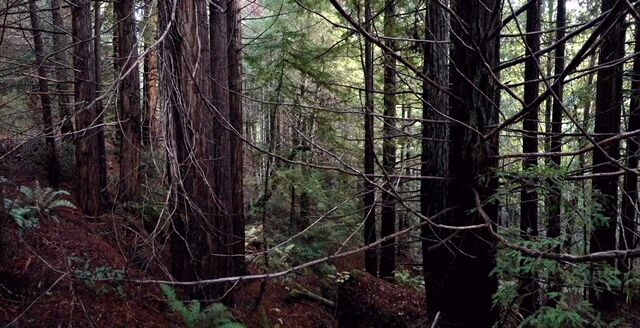 Photo from the 42-acre parcel of a young Redwood stand in need of thinning
Good News on the Climate Change Front
It's easy to lapse into despair or bury our heads in the sand when confronted with global warming. But here are a few causes for optimism:
Natural climate solutions (NCS): Experts are championing nature's built-in solutions for climate change, including forest restoration. And this "technology" doesn't required decades of research and development. It's available now. A recent study published in Science Advances identified 21 natural solutions that have the potential to mitigate 21% of the net annual emissions of the United States. The report also found that out of all these solutions, "Reforestation has the single largest maximum mitigation potential."
Electric Cars: Huge strides are being made in the transportation sector with electric vehicles (EVs), which are steadily transforming the auto industry and phasing out the internal combustion engine. BloombergNEF reports that in 2018, carbon dioxide emissions from electric vehicles were 40% lower than from gas-powered engines. And this percentage will grow with continued grid decarbonization. More here.
Fast-Growing Renewables:. The U.S. Energy Information Administration projects that in 2019 almost two-thirds of new electric capacity will come from wind and solar. This has dramatic implications as the US is one of the world's biggest contributors of carbon emissions. More here.
Sustainably Feeding the World: An international cohort of scientists has designed a diet capable of sustainably supporting 10 billion people (projected world population for 2050). It's nutritious, earth-friendly, and even lets you enjoy a hamburger a week. More here.
There are still serious climate issues before us. But with our collective will and participation, we can meet these challenges and preserve our planet and our future.
Thank you,
Raul