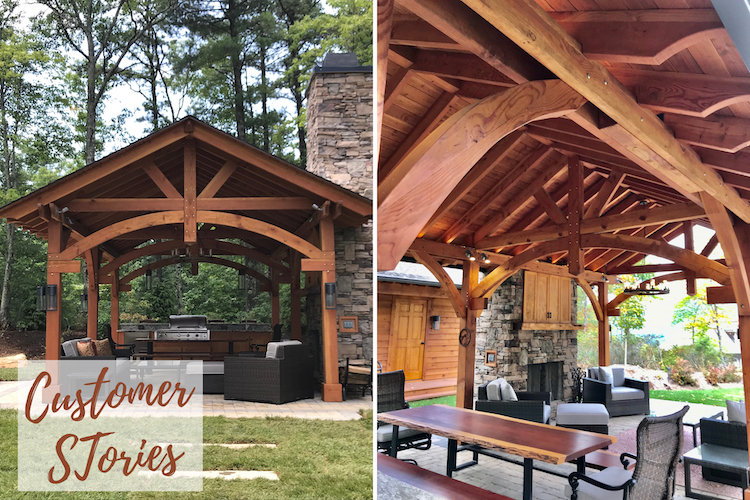 1st Place Winners, Forever Redwood 2020 Photo Contest: Marilyn and Steve Lapidus of Boone, NC, Cardinal's Nest Pavilion
Question: When can a husband click "buy" on a 30′ L x 18′ W x 14′ H pavilion, purchased from a company on the other side of the country, without first telling his wife?
Answer: When there's an abundance of trust, earned over 52 years of marriage.
"He told me the next day," laughed Marilyn Lapidus, the wife in question, during a recent phone call from her home in North Carolina alongside husband, Steve. "I said, 'okay!'"
A testament to the trust in their relationship but also, Steve added, to the confidence he felt after conversations with Forever Redwood founder, Raul Hernandez, and the design team.
The idea for a pavilion arose after Marilyn and Steve purchased an acre lot adjacent to their home. A friend who is a landscape architect oversaw the design of the grounds then suggested installing a pavilion with a fireplace and outdoor kitchen. Another friend, an architect, drew up plans. But then the project stalled. "We loved the concept, but discovered it was priced way over what we wanted to spend," Steve said.
They back-burnered the idea until their friend, the architect, suggested searching online for a less expensive pavilion. Steve was surprised to learn he could order an item as large as a pavilion online. His research led him to Forever Redwood's website where he perused the 24 available pavilion designs. Many would accommodate the features that were important to him, such as the fireplace and kitchen. The ability to customize to his desired dimensions was also appealing.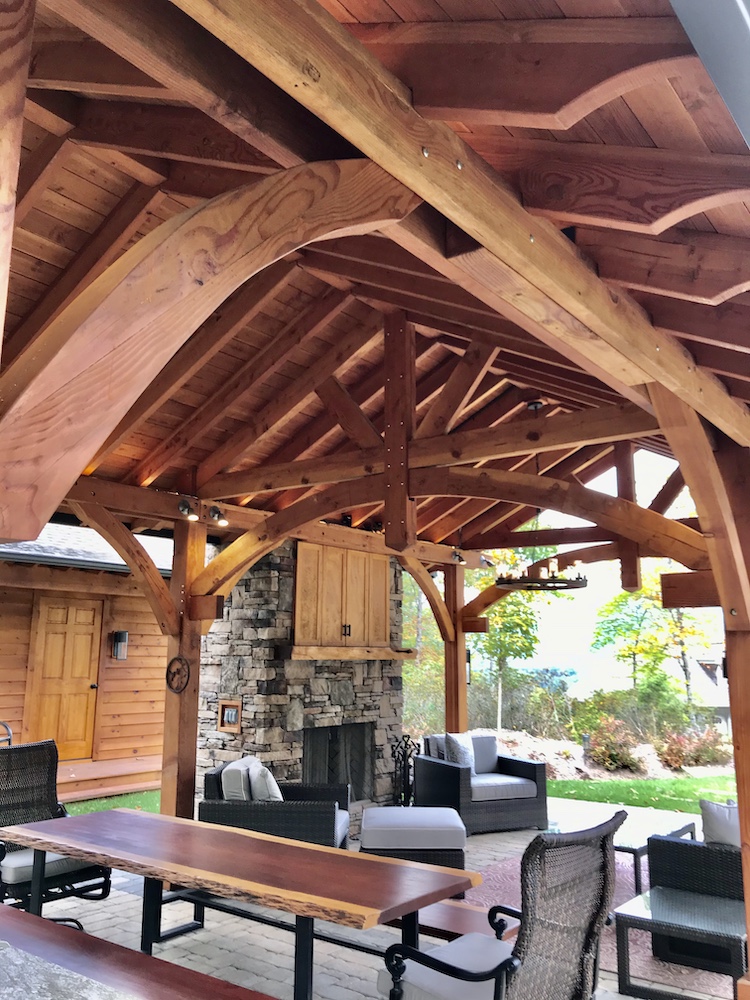 Customizing the design to accommodate a fireplace was a must.
But it was the Cardinal's Nest Pavilion, with its sturdy beams and graceful lines, that really piqued Steve's interest. "I thought it was so unique," he said. And the price was within budget, which meant the project could move forward. (Coincidentally, the design for the Cardinal's Nest Pavilion was inspired by another happy marriage.)
After Raul and the design team answered all of their questions and fine-tuned the custom features, Marilyn and Steve approved the drawings. The final design is a gorgeous 30′ L x 18′ W x 14′ H pavilion in Douglas-fir, finished with transparent premium sealant to showcase the highlights in the wood. The structure is trimmed for electric and features a High Wind 6-Post Anchor Kit for stabilization in severe weather.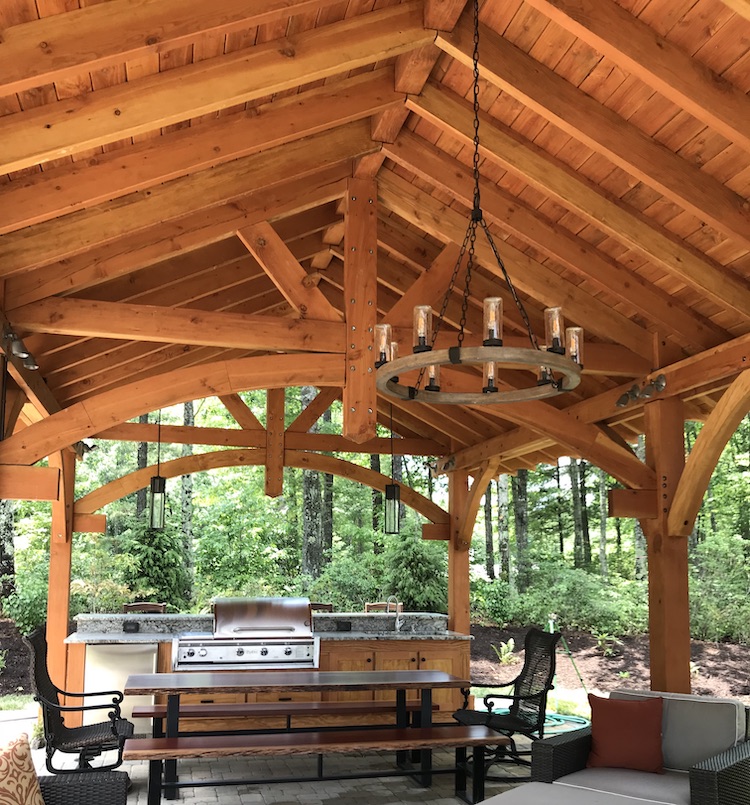 Marilyn and Steve enjoy grilling steaks and hamburgers on the infrared barbecue.
As the drawings became reality, beam by beam, in Forever Redwood's woodworking shop, the carpenters kept Marilyn and Steve apprised of the process. "We received photos of the pavilion as it was being constructed," Marilyn said. "It was amazing to see how they put this thing together, knowing that they were going to take it apart and send it here!"
The pavilion roof was customized to accommodate the stone fireplace, a solid, yet cosy, centerpiece that symbolizes Marilyn's favorite function of the structure — as a gathering place for her children, their spouses, and her three grandchildren. In fact, the chimney features prominently in the photo that won Marilyn and Steve First Prize in Forever Redwood's 10th Annual Photo Contest.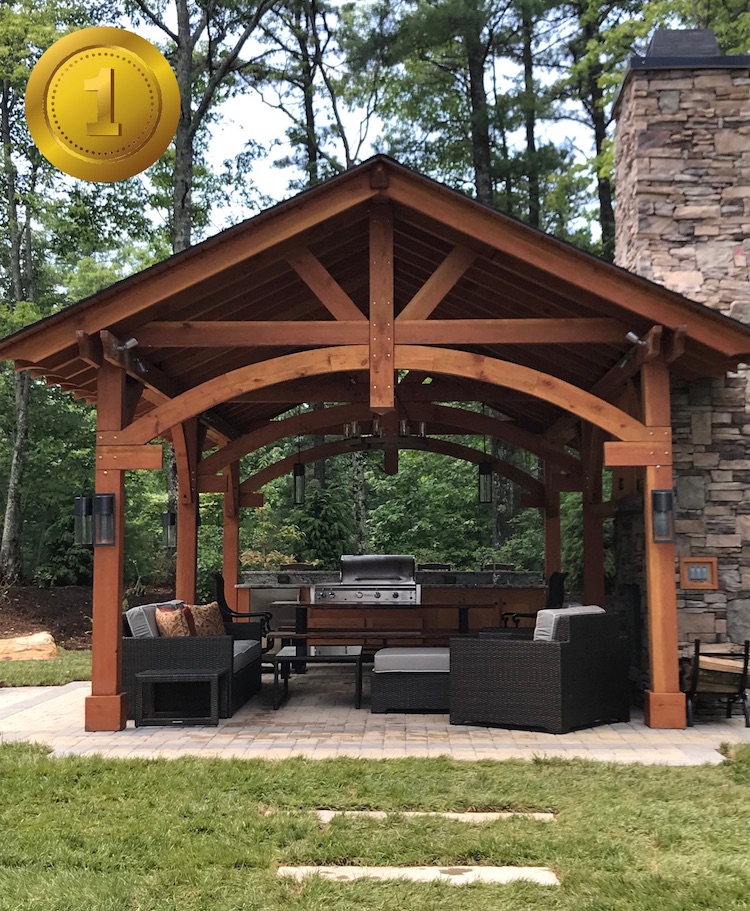 Marilyn also appreciated the Forever Redwood team that installed the pavilion once it arrived. "It was a very good experience," she said, reflecting on the overall process. Steve agreed, offering a final thought: "As odd as it seemed to buy something as big as a pavilion online, in speaking with Raul, I got comfortable that we were doing the right thing."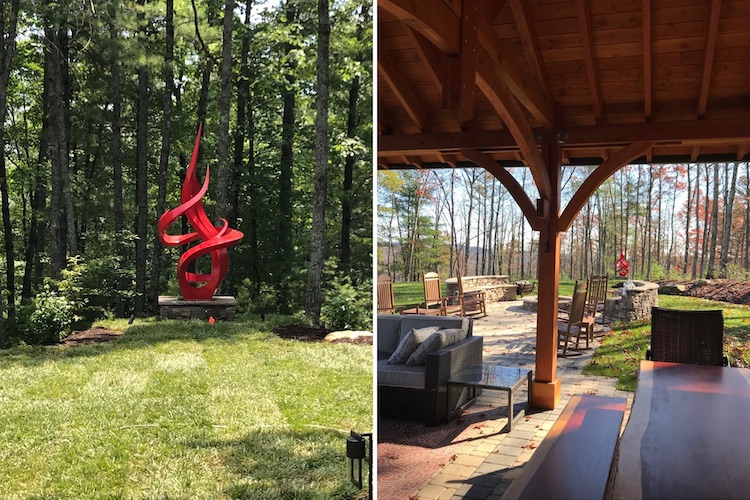 Rising Flame — a 10′ high metal sculpture which Steve and Marilyn enjoy viewing as they relax beneath the pavilion. Also ordered online!

Inspired by Marilyn and Steve's story? Now is a great time to start working with our team on your spring project! You can save with our Free Shipping Option (12 to 14 weeks). Inquire about our 3% Wire Transfer Discount for additional savings. Contact us at (866) 332-2403 or through our contact form here.