The benefits of buying a Redwood Picnic Table from Forever Redwood are immense, but one of the ones we're most proud of is our commitment to the environment. We build our tables and products with restoration forestry lumber, ensuring minimal effect on the California Redwood population. We also pride ourselves on our meticulous construction and design standards, which you can see and feel in each one of our Redwood Picnic Tables.
Available in lengths from 4 to 14 feet to seat up to 18 adults comfortably.
Each table is handmade per your instructions. Choose your length, tabletop width, corner styles, umbrella hole and other options to make the table just the way you'd like.
Materials to Last a Lifetime - extra thick Redwood outlasts cedar or teak. We use only stainless hardware and the best weather resistant sealant.
No cheap plastics or synthetics in any part of the table or benches.
Visit our Warranty Page to learn about our guarantee against decay
Visit the Assembly & Care tab above for specific assembly instructions related to this product.
Our White Glove Assembly service is available in all 50 states. If you don't want to do the assembly yourself, select White Glove as you checkout to reserve our team. Available in the Continental US (Excludes HI & AK).
Click the Specifications Tab to learn all of the nitty gritty details about this product
Order now online and within 5 business days, you'll receive detailed and customized designs from one of our Design Engineers that is unique to your order. You can have your table shipped directly to your house and put it together in less than a day. Give us a call or e-mail to go over the specifics and answer questions you may have today!
FOREVER PICNIC TABLES (ATTACHED BENCHES) SPECIFICATIONS (PDF DOWNLOAD)
Specifications has the following sections, any of which you may go to directly by clicking on it:
DIMENSIONS & DRAWINGS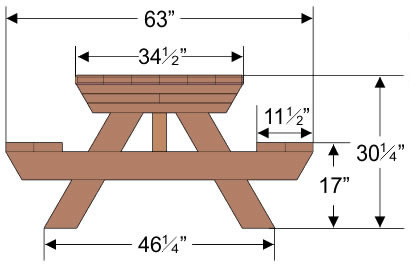 Side View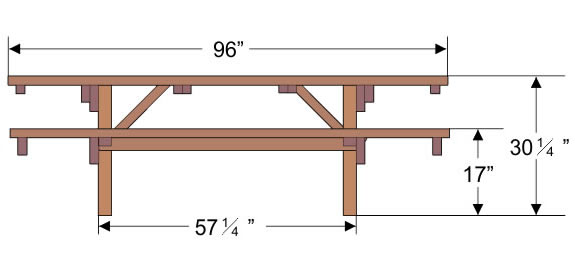 Front View
Tabletop boards are 5 3/4" W, this is why the widths run in 5 3/4" increments. Picnic tables have a default Height of 30 1/4". Any of the dimensions shown can be altered if you require a custom height or width. Just let us know.
If the table is going to be used for meals, there is a common upgrade often made that you should be aware of:
If you plan to place food platters on the table, a 36" W tabletop is a bit narrow to hold both food platters and provide enough space for place settings on both sides of the table. Also, if you'd like to have comfortable place settings on the ends of the table that do not conflict with someone sitting on the side corners. Adding an extra 6 or 12 inches (to a 42" or a 48" W tabletop) not only creates the space in the center for the food platters, but also creates a place setting on both ends of the table. As far as useful space, you create more by adding a foot in width than a foot in length.
Benches, whether attached or unattached, have a bench top width of 11 1/2". Unattached benches have legs that flare out to 17" at base/ground level. If you choose end tables with your set, they are built 6" shorter than the width of the table to ensure the benches don't bump into the side benches when used close to the table. Just let us know if you'd like something different.
Bench top, Tabletop and leg boards are 1 7/8" thick. All tables over 8 'L have legs made with 2 7/8" thick timbers for proper support. All tables over 10' L have 3 sets of legs for proper support. The 10' table is usually made with just 2 sets of legs, but if you'd like a third set of legs, just let us know in the comment section at checkout (no extra charge).
The following table weights were calculated using the default 36" tabletop width in Redwood. Douglas-fir weighs approximately 20% more:
Table Length
Number of Adults Who Can Dine Comfortably (Based on a std. 36" width table)
Approx. Weight Table Alone
Approx. Weight Table with Benches
Side Benches Only
Add End Benches
4-Ft
4
6
100 lbs.
160 lbs.
4.5-Ft
6
8
110 lbs.
175 lbs.
5-Ft
6
8
125 lbs.
185 lbs.
6-Ft
8
10
150 lbs.
210 lbs.
7-Ft
8
10
170 lbs.
240 lbs.
8-Ft
10
12
190 lbs.
270 lbs.
10-Ft
12
14
230 lbs.
330 lbs.
12-Ft
14
16
300 lbs.
410 lbs.
14-Ft
16
18
340 lbs.
460 lbs.
Seating:
Seating estimates by length of table vary slightly depending on the selected seating configuration (adding End Benches generally adds 2-4 additional seats depending on table width). The Forever Picnic Bench (with flared leg) is the default style of bench used. If you'd like a different style, please see the option offered under Advance Options.
ADA ACCESSIBILITY DESIGN
ADA Accessibility Guidelines (ADAAG)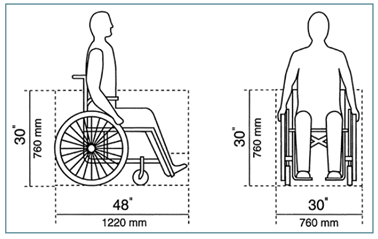 4.32.2 Seating. If seating spaces for people in wheelchairs are provided at fixed tables or counters, clear floor space complying with 4.2.4 shall be provided. Such clear floor space shall not overlap knee space by more than 19 in (485 mm) (see Fig. 45).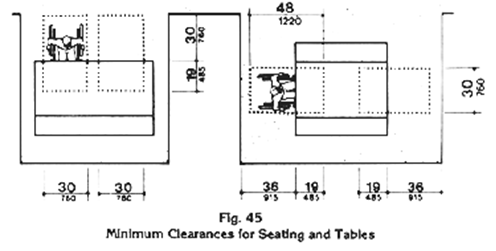 4.32.3 Knee Clearances. If seating for people in wheelchairs is provided at tables or counters, knee spaces at least 27 in (685 mm) high, 30 in (760 mm) wide, and 19 in (485 mm) deep shall be provided (see Fig. 45). 4.32.4* Height of Tables or Counters. The tops of accessible tables and counters shall be from 28 in to 34 in (710 mm to 865 mm) above the finish floor or ground.
OPTION 1 - With both benches trimmed
OPTION 2 - With one bench trimmed
OPTION 3 - With benches a full size on both sides
With benches a full 8' on both sides, a wheel chair does have enough room to fit at either end of the table as long as no one sits near the edge. But if you want to make sure that this space is always available, then we should trim at least one of the benches on one end of the table.
Assembly Instructions for: Typical Assembly instructions for an average sized Forever Picnic Tables (Attached Benches)
Simple, Easy Assembly

Furniture assembly should take half a day or less. Sets ship in less than 15 parts. Tabletop and benchtops always ship assembled. Just add the legs and supports and enjoy.As with all our products, we preassemble our furniture items in our shop to ensure everything fits together. All hardware is included and all parts are clearly labeled before it is shipped. We also include detailed step-by-step instructions.
Take a look at our assembly instructions above for specific details.
Installation Help.
Special talent is not required to re-assemble any of our furniture items or outdoor structures. If you would like help, just let us know. Our installation team is available in the continental US (excludes HI & AK)
Care: You should expect your furniture to last outside for a minimum of 10-40 years without maintenance, even in climates with harsh year-round conditions. Because of our high quality wood, the silver patina that will naturally occur is surface deep (less than 1/64") and is not indicative of decay. We keep our display items without refinishing as examples show off their natural aging. We like the patina! If you'd like to keep your set looking its best for decades please visit: Care and Finish.