Forever Picnic Tables (Unattached Benches)
When you purchase one of our Forever Wood Picnic Tables, built to last decades, you are getting a piece of outdoor furniture that will last generations in your family. These fantastic wood picnic tables have removable benches to allow more space options, and easy to move pieces to accommodate the whole family or group of friends. These tables are so big; they can fit up to 18 adults!
Custom detail or design? Talk to one of our specialists to get the perfect solution!
Learn More
Don't want to assemble? We can deliver and assemble anywhere in the Continental US.
Learn More
This is the perfect table for large gatherings, campgrounds, or even restaurants with outdoor eating spaces, and big crowds. These tables can take whatever you throw at them, and are constructed with around 40% more wood than the leading competitor. We used the highest quality restoration forestry timber and build each piece by hand in our studio. There are no cheap materials or flimsy hinges here.
Forever Picnic Tables available in lengths from 4 to 14 feet to seat up to 18 adults comfortably.
Each table is handmade per your instructions. Choose your length, tabletop width, corner styles, umbrella hole and other options to make the table just the way you'd like.
Materials to last a lifetime - extra thick Redwood outlasts cedar or teak. We use only stainless hardware and the best weather resistant sealant.
Fast assembly. Sets ship in less than 15 parts. Tabletop and benchtops always ship assembled. Just add the legs and supports and enjoy your wood table.
Ordering is easy. Simply select your table in the drop menu and customize how you want it, with or without the detachable benches. We will get right on construction once we've nailed down your customized order, and can ship to anywhere in the Continental United States. Contact us to chat more about delivery options, and specifics on your new Forever Wood Picnic Table.
FOREVER PICNIC TABLES (UNATTACHED BENCHES) SPECIFICATIONS (PDF DOWNLOAD)
DIMENSIONS & DRAWINGS

| | | | | |
| --- | --- | --- | --- | --- |
| Table Width (W): | 30 inch. | 36 inch. | 42 inch. | 48 inch. |

Tabletop widths are slightly narrower than the sizes listed due to the fact that each tabletop board is 1/4" less than 6" wide. So, instead of a standard 36" wide tabletop (the default setting), the 36" wide top with 6 boards shown in the drawing below is actually 34 1/2" W with a 30 1/2" H, and is 46 1/4" W without benches and 63" W with attached benches. The legs of the tables flare out to 46 1/4" W at the base/ground level.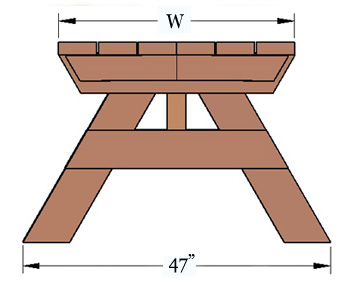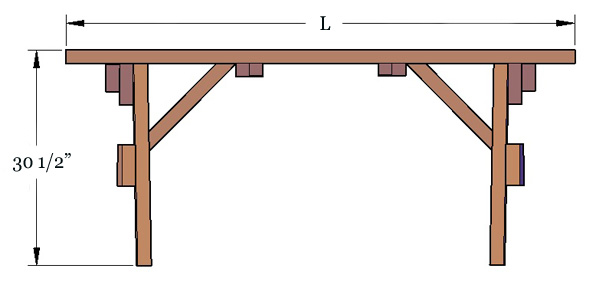 Benches, whether attached or unattached, have a bench top width of 11 1/2" (see drawing below). Unattached benches have legs that flare out to 18 1/4" at base/ground level. If you choose end tables with your set, they are built 6" shorter than the width of the table to ensure the benches don't bump into the side benches when used close to the table . Just let us know if you'd like something different.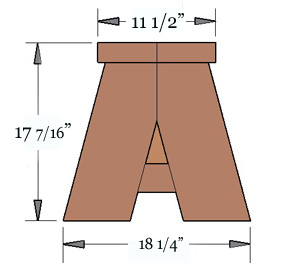 Bench top, Tabletop and leg boards are 1 7/8" thick. All tables over 8 'L have legs made with 2 7/8" thick timbers for proper support. All tables over 10' L have 3 sets of legs for proper support. The 10' table is usually made with just 2 sets of legs, but if you'd like a third set of legs, just let us know in the comment section at checkout (no extra charge).
The following table weights were calculated using the default 36" tabletop width in Redwood. Douglas-fir weighs approximately 20% more:
Table Length (L)
Number of Adults who Can Dine Comfortably.
(Based on a std. 36" Width Table
Approx. Weight Table Alone
Approx. Weight Table with Benches
Side Benches Only
Add End Benches
4 ft
4
6
100 lbs.
160 lbs.
4.5 ft
6
8
110 lbs.
175 lbs.
5 ft
6
8
125 lbs.
185 lbs.
6 ft
8
10
150 lbs.
210 lbs.
7 ft
8
10
170 lbs.
240 lbs.
8 ft
10
12
190 lbs.
270 lbs.
10 ft
12
14
230 lbs.
330 lbs.
12 ft
14
16
300 lbs.
410 lbs.
14 ft
16
18
340 lbs.
460 lbs.
Seating:
Seating estimates by length of the table vary slightly depending on the selected seating configuration (adding End Benches generally adds 2-4 additional seats depending on table width). The Forever Picnic Bench (with flared leg) is the default style of bench used. If you'd like a different style, please see the option offered under Advance Options.
STANDARD OR ADJUSTED LEG FLAIR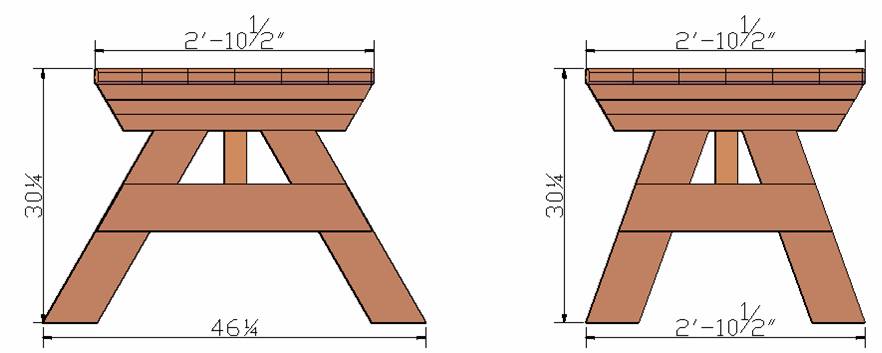 Standard Leg Flair – the leg flair for the Rectangular Picnic Tables is 47" at the ground. This is the traditional way picnic tables are built to give them supreme stability in any terrain. It is the most popular option by far. For example, if your tabletop is 36" wide, the standard leg flair will have the legs going out beyond the edge of the tabletop on both sides by 5 1/2".
However, some customers prefer to make this leg flair less wide, in order to accommodate unattached benches or chairs. If you prefer this option, just choose the Adjusted Leg Flair and we will reduce the leg flair width to the same as the width of the table.
Adjusted Leg Flair – in some rare cases it works better to have the leg flair less wide to avoid possibly bumping into the legs or if you are in a limited space. If you prefer this option, just choose Adjusted Leg Flair and we'll reduce the leg flair to match the width of the table.
Assembly Instructions for: Forever Picnic Tables (Unattached Benches)
Assembly Instructions for: Classic Wooden Picnic Bench
Assembly Instructions for: Fullback Wood Picnic Bench
Assembly
All you need is a ratchet wrench and a hammer.
Our furniture is preassembled in our wood working shop to ensure reassembly is a snap. The Rectangular Picnic Tables require only a ratchet wrench and a small hammer to tap in the bolts. They ship in less than 15 parts and take less than 1 hour to re-assemble and begin enjoying them. All parts are clearly labeled and detailed step by step instructions are included. They can easily be re-assembled by one person. To download assembly instructions for any of our items, please go to: Assembly
Care: Your Forever Redwood Furniture will last for decades in year-round weather without maintenance.
Depending on the wood grade you choose, even with harsh year-round outdoor conditions, you can expect your furniture to last from ten to forty years without maintenance of any kind.
Being outside year round is rough on any woods finish. The surface absorbs UV rays, pollution, constant variations in moisture and temperature and it also oxidizes. This is why most wood just doesnt hold up and the surface color slowly changes towards a silver patina over the years. But, with Forever Redwood, you dont have to worry. The silver patina is surface deep only (less than 1/64") and is not indicative of decay. Your set will last decades and is not compromised in any way by the surface color change. For example, we keep our display items as is without refinishing to show off this natural aging (we like the patina!).
Although Forever Redwood is maintenance-free, we recommended you take a few minutes as needed to clean by either hosing down and/or brushing/dusting away accumulated debris (no soap or chemicals needed). If youd like to keep your set looking its best for decades, please go to: Care and Finish
Sign In
New Customer
New to Forever Redwood? Create an account to get started today.
Create My Account