This is the perfect table for large gatherings, campgrounds, or even restaurants with outdoor eating spaces, and big crowds. These tables can take whatever you throw at them, and are constructed with around 40% more wood than the leading competitor. We used the highest quality restoration forestry timber and build each piece by hand in our studio. There are no cheap materials or flimsy hinges here.
Forever Picnic Tables are available in lengths from 4 to 14 feet to seat up to 18 adults comfortably.
Each table is handmade per your instructions. Choose your length, tabletop width, corner styles, umbrella hole and other options to make the table just the way you'd like.
Materials to last a lifetime. We use only stainless hardware and the best weather resistant sealant.
No cheap plastics or synthetics in any part of the table or benches.
Visit our Warranty Page to learn about our guarantee against decay
Fast Assembly. Sets ship in less than 15 parts. Tabletop and benchtops always ship assembled. Just add the legs and supports and enjoy your wood table.
If you'd rather we did the Assembly for you, Our White Glove Assembly service is available in all 50 states. Just select White Glove from the options as you check out.
Visit the Assembly & Care tab above for specific assembly instructions related to this product.
Want more details on this product? Click the Specifications Tab to find out everything you ever wanted to know about our Forever Wood Picnic Table with Unattached Benches
Ordering is easy. Simply select your table in the drop menu and customize how you want it. We will get on construction once we've nailed down your customized order, and can ship for free anywhere within the Continental United States. Contact us to chat more about delivery options and answer any specific questions you may have about your new Forever Wood Picnic Table!
FOREVER PICNIC TABLES (UNATTACHED BENCHES) SPECIFICATIONS (PDF DOWNLOAD)
DIMENSIONS & DRAWINGS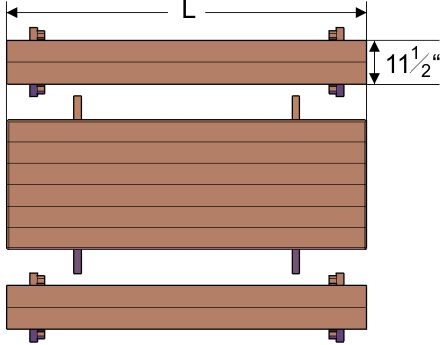 Top View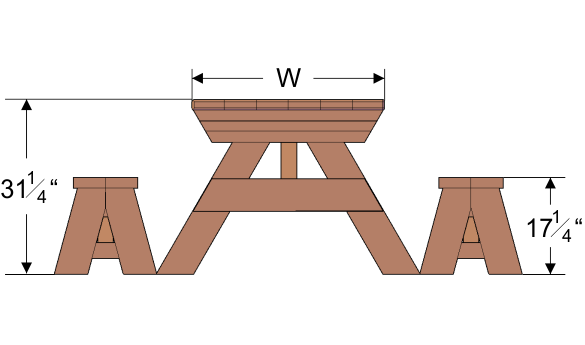 Side View
| | | | | |
| --- | --- | --- | --- | --- |
| Table Width (W): | 30 inch. | 36 inch. | 42 inch. | 48 inch. |
Tabletop widths are slightly narrower than the sizes listed due to the fact that each tabletop board is 1/4" less than 6" wide. So, instead of a standard 36" wide tabletop (the default setting), the 36" wide top with 6 boards shown in the drawing below is actually 34 1/2" W with a 30 1/2" H, and is 46 1/4" W without benches and 63" W with attached benches. The legs of the tables flare out to 46 1/4" W at the base/ground level.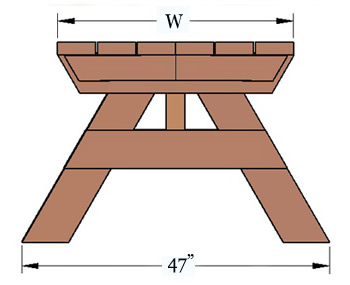 Side View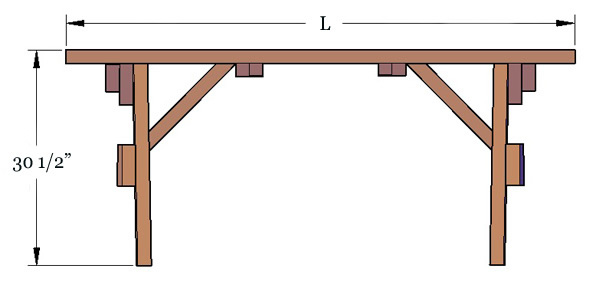 Front View
Benches, whether attached or unattached, have a bench top width of 11 1/2" (see drawing below). Unattached benches have legs that flare out to 18 1/4" at base/ground level. If you choose end tables with your set, they are built 6" shorter than the width of the table to ensure the benches don't bump into the side benches when used close to the table.\ Just
let us know
if you'd like something different.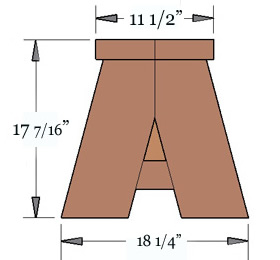 Side View
Bench top, Tabletop and leg boards are 1 7/8" thick. All tables over 8 'L have legs made with 2 7/8" thick timbers for proper support. All tables over 10' L have 3 sets of legs for proper support. The 10' table is usually made with just 2 sets of legs, but if you'd like a third set of legs, just let us know in the comment section at checkout (no extra charge).
The following table weights were calculated using the default 36" tabletop width in Redwood. Douglas-fir weighs approximately 20% more:
Table Length (L)
Number of Adults who Can Dine Comfortably.
(Based on a std. 36" Width Table
Approx. Weight Table Alone
Approx. Weight Table with Benches
Side Benches Only
Add End Benches
4 ft
4
6
100 lbs.
160 lbs.
4.5 ft
6
8
110 lbs.
175 lbs.
5 ft
6
8
125 lbs.
185 lbs.
6 ft
8
10
150 lbs.
210 lbs.
7 ft
8
10
170 lbs.
240 lbs.
8 ft
10
12
190 lbs.
270 lbs.
10 ft
12
14
230 lbs.
330 lbs.
12 ft
14
16
300 lbs.
410 lbs.
14 ft
16
18
340 lbs.
460 lbs.
Seating:
Seating estimates by length of the table vary slightly depending on the selected seating configuration (adding End Benches generally adds 2-4 additional seats depending on table width). The Forever Picnic Bench (with flared leg) is the default style of bench used. If you'd like a different style, please see the option offered under Advance Options.
STANDARD OR ADJUSTED LEG FLAIR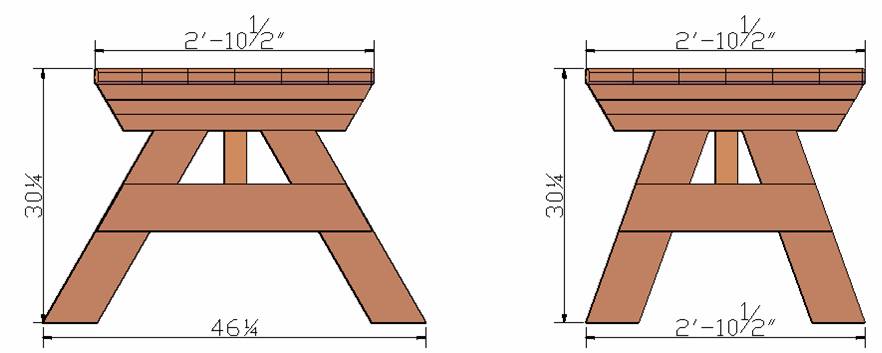 Standard Leg Flair – the leg flair for the Rectangular Picnic Tables is 47" at the ground. This is the traditional way picnic tables are built to give them supreme stability in any terrain. It is the most popular option by far. For example, if your tabletop is 36" wide, the standard leg flair will have the legs going out beyond the edge of the tabletop on both sides by 5 1/2".
However, some customers prefer to make this leg flair less wide, in order to accommodate unattached benches or chairs. If you prefer this option, just choose the Adjusted Leg Flair and we will reduce the leg flair width to the same as the width of the table.
Adjusted Leg Flair – in some rare cases it works better to have the leg flair less wide to avoid possibly bumping into the legs or if you are in a limited space. If you prefer this option, just choose Adjusted Leg Flair and we'll reduce the leg flair to match the width of the table.
Assembly Instructions for: Forever Picnic Tables (Unattached Benches)
Assembly Instructions for: Classic Wooden Picnic Bench
Assembly Instructions for: Fullback Wood Picnic Bench
Simple, Easy Assembly

Furniture assembly should take half a day or less. Sets ship in less than 15 parts. Tabletop and benchtops always ship assembled. Just add the legs and supports and enjoy.As with all our products, we preassemble our furniture items in our shop to ensure everything fits together. All hardware is included and all parts are clearly labeled before it is shipped. We also include detailed step-by-step instructions.
Take a look at our assembly instructions above for specific details.
Installation Help.
Special talent is not required to re-assemble any of our furniture items or outdoor structures. If you would like help, just let us know. Our installation team is available in the continental US (excludes HI & AK)
Care: You should expect your furniture to last outside for a minimum of 10-40 years without maintenance, even in climates with harsh year-round conditions. Because of our high quality wood, the silver patina that will naturally occur is surface deep (less than 1/64") and is not indicative of decay. We keep our display items without refinishing as examples show off their natural aging. We like the patina! If you'd like to keep your set looking its best for decades please visit: Care and Finish.