Explore Our Comprehensive Selection of Pergola Styles, Sizes, and Custom Options
All of our products, including the ones listed here, are made with sustainability in mind. As we deal with lumber as a business, we build all of our products with only restorable forestry wood. This means that not only will you be buying quality, but you will also make a minimum impact on the environment when you shop Redwood Garden Pergola Kits. They are weather resistant, built with strong supports of steel and wood, and can be assembled by hand in little to no time.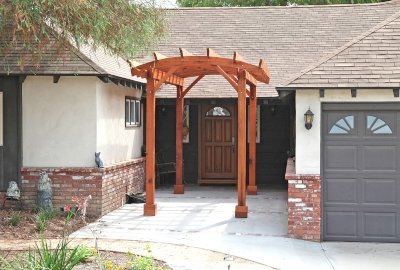 The Small Arched Open Sky Pergola is a popular variation on our best selling Arched Pergola. Its graceful open roof design can be built up to 14' x 12' and it is a popular way to stretch your invested dollar. Re-assembly on site is usually only 4 to 5 hours. Fast nationwide shipping.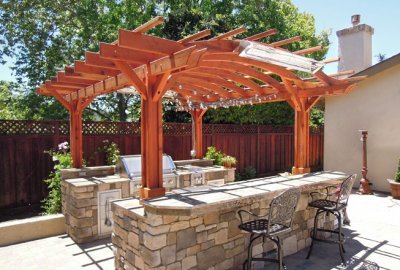 Much like the Northern California County that shares its name, our Marin Outdoor Pergola kit is truly one of a kind. Made with outdoor cooking in mind, it is a lovely way to frame, adorn and shade your BBQ area, pool bar, or outdoor kitchen. Like all our pergolas, you can customize and size it to fit your needs. Let us know what you have in mind and consider it done.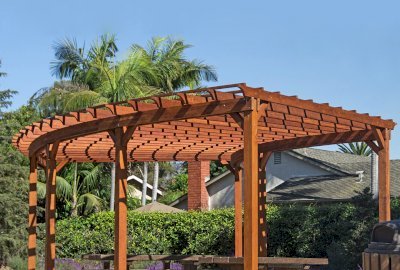 The Fan Shaped Pergola is a unique design. It literally fans out to maximize space and provide a unique warm natural California Redwood style that's unmatched. She takes some extra time to figure out the geometry and every project is different, but it is one of our most loved shade structures. Let us know what you have in mind and we will roll up our sleeves.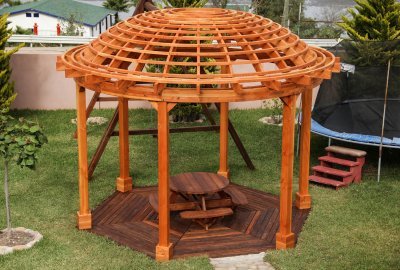 The Dome Pergola takes your breath away. It is the instant centerpiece of any landscape. Its meticulously handcrafted finely finished wood adorns every inch of the structure. Built using extremely resistant California Redwood, it is a wooden temple that will adorn your landscape for decades.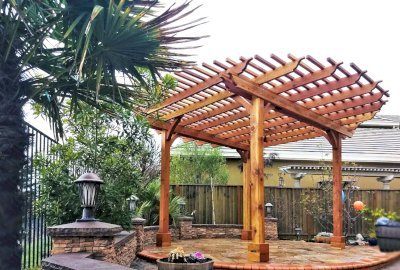 The Round Pergola is a fun true circle that has a playful look but a serious backbone. Like all our pergolas or pavilions, you can walk all over the roof and it will not even notice. Have a circular pergola in mind, let us introduce you to the Round Pergola. We may not be creative when it comes to naming our structures, but the pictures show we are a bit better building then naming!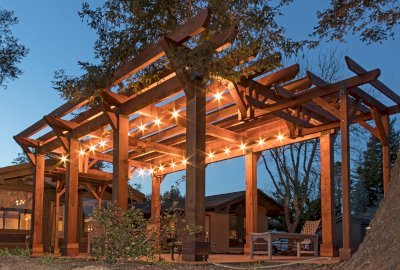 Why not do your own thing? Yes, dream big and consider it done. Each our of our custom pergolas is unique yet elegant and sturdy. Each is designed with your input until you are sure every detail is the way you want it. Each structure is unique and intricately made by hand. Browse our diverse selection and feel free to customize any of them to fit your specific requirements.
Showing 21 to 26 of 26 (2 Pages)