Round Wood Picnic Table with Wheels
Being able to move your patio furniture easily is a big plus when you've got guests, and our Round Wood Picnic Table With Wheels makes this easy, and stress-free every time. This table is easy get out of the way in a pinch, or move to accommodate more space, without hurting your back, or clearing the table off.
Custom detail or design? Talk to one of our specialists to get the perfect solution!
Learn More
Don't want to assemble? We can deliver and assemble anywhere in the Continental US.
Learn More
Rustic, country style and build defines this solid redwood table, with a finish that is classic as it is classy. The Round Wood Picnic Table With Wheels can be custom built and sized to meet your specific needs. Just tell us how to build it, and we'll set you up with a custom design and price quote. These tables are 100% California redwood (even the wheels!) and can seat 12 adults easily. Roll them on or off the lawn, up into the covered patio, or out to the pool. It's that simple!
Wood Picnic Tables available in sizes that seat up to 12 adults comfortably
Tailor it to your tastes easily with our More Options - tabletop style, attached benches or no seating, bench styles, umbrella holes, stains/sealants, etc. For Attached Benches see Round Picnic Table (Attached Benches)
Materials to last a lifetime - our extra thick, finely sanded Redwood that outlasts cedar/teak, stainless hardware and the best weather resistant sealants.
Simple Assembly
Call us today to find out more about our delivery services, setup services, and warranties available from Forever Redwood. We can have your custom designs drawn up and sent to you in 3 days, and will hand build your table in our studio, before sending it out to you. Assembly is easy, and there's no cheap plastics or synthetics in any part of the table or benches. Order yours today!
DIMENSIONS & DRAWINGS
The 4 ft Round Picnic Table with benches is designed for eight adults of average size to sit at snugly. It is a tight fit to dine eight, but for drinking or appetizers it works well for up to eight adults. For dining, the 4.5 ft Round Picnic Table sits eight comfortably. The 5 ft Round Picnic Table sits eight large men comfortably for dining and up to 10 adults of average size. It can sit up to twelve snugly. The 5.5-Foot Round Picnic Table is ideal for dining for twelve adults comfortably.
Number of Adults Who Can Dine Comfortably
Table Diameter
Benches
4 ft
6
4.5 ft
8
5 ft
10
5.5 ft
12
Round Picnic Table Dimensions
The tables are substantially overbuilt to last. All tabletop boards are 1 7/8" thick. The 4 ft and 4.5 ft tables have legs made with extra thick 1 7/8" x 5 3/4" timbers. The 5 and 5.5 ft tables have legs built from 2 5/8" x 5 3/4" timbers. Tables with attached benches use timbers under the table to hold the benches. If you plan to use an umbrella stand, keep in mind these timbers limit umbrella stand height to 12.5" or less. If you require a custom size for your furniture, please let us know. In almost all cases we can accomodate your needs.

| | | |
| --- | --- | --- |
| Round Picnic Table Sizes | W1 | B1 |
| 4-Foot | 46" | 36" |
| 4.5-Foot | 54" | 43" |
| 5-Foot | 57 1/2" | 50" |
| 5.5-Foot | 66" | 54" |
4-Foot Round Picnic Table:
46" Diameter Tabletop x 30 7/16" High; 78 5/8" Diameter with attached benches. Benches are 36" long.
4.5-Foot Round Picnic Table:
54" Diameter Tabletop x 30 7/16" High; 80 5/8" Diameter with attached benches. Benches are 43" long.
5-Foot Round Picnic Table:
57.5" Diameter Tabletop x 30 7/16" High; 82" Diameter with attached benches. Benches are 50" long.
5.5-Foot Round Picnic Table:
66" Diameter Tabletop x 30 7/16" High; 84 5/8" Diameter with attached benches. Benches are 54" long.
Table Diameter
Approx. Weight of Table Alone
Approx. Weight of Table
with Attached Benches
Approx. Weight of Table
with Unattached Benches
4-Foot
120 lbs.
220 lbs.
200 lbs.
4.5-Foot
140 lbs.
250 lbs.
230 lbs.
5-Foot
160 lbs.
290 lbs.
260 lbs.
5.5-Foot
195 lbs.
320 lbs.
290 lbs.
BENCH STYLES
Round Picnic Bench

(Default)

Arc Picnic Bench
LAZY SUSAN
A Lazy Susan is a revolving tray for foods, condiments, etc., placed usually at the center of a round table. You can choose between a 20" and a 25" diameter version. They are 3" tall.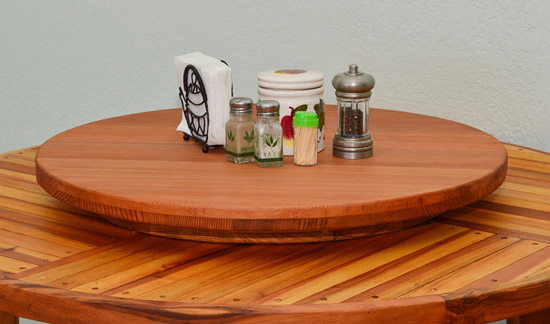 Notes:
1. UMBRELLA HOLE: If you order an umbrella hole with your table, we will include an umbrella hole also for the Lazy Susan so you can use it with an umbrella. The standard umbrella hole is 2" in diameter for the tabletop. In order for the Lazy Susan to spin unobstructed, we will make the umbrella hole on the Lazy Susan a bit larger (2 1/8" diameter).
2. LEAVE THE LAZY SUSAN OUTDOORS YEAR ROUND?: The Lazy Susan has a metal component that allows it to spin. Although this is protected by the wood, it is not recommended that the Lazy Susan be left outdoors year round. It is fine to leave out for days at a time, but for prolonged periods it is best stored indoors when not in use to protect the bearings within.
Assembly Instructions for: Round Wood Picnic Table With Wheels
Assembly
All you need is a ratchet wrench and a hammer.
Our furniture is preassembled in our wood working shop to ensure reassembly is a snap. The Round Picnic Tables require only a ratchet wrench and a small hammer to tap in the bolts. They ship in less than 15 parts and take less than 1 hour to re-assemble and begin enjoying them. All parts are clearly labeled and detailed step by step instructions are included. They can easily be re-assembled by one person. To download assembly instructions for any of our items, please go to: Assembly
Care: Your Forever Redwood Furniture will last for decades in year-round weather without maintenance.
Depending on the wood grade you choose, even with harsh year-round outdoor conditions, you can expect your furniture to last from ten to forty years without maintenance of any kind.
Being outside year round is rough on any woods finish. The surface absorbs UV rays, pollution, constant variations in moisture and temperature and it also oxidizes. This is why most wood just doesnt hold up and the surface color slowly changes towards a silver patina over the years. But, with Forever Redwood, you dont have to worry. The silver patina is surface deep only (less than 1/64") and is not indicative of decay. Your set will last decades and is not compromised in any way by the surface color change. For example, we keep our display items as is without refinishing to show off this natural aging (we like the patina!).
Although Forever Redwood is maintenance-free, we recommended you take a few minutes as needed to clean by either hosing down and/or brushing/dusting away accumulated debris (no soap or chemicals needed). If youd like to keep your set looking its best for decades, please go to: Care and Finish
Sign In
New Customer
New to Forever Redwood? Create an account to get started today.
Create My Account