Available in lengths from 8 to 50 ft and widths from 8 to 18 ft.
Quality thick-timbered frame is stable as a stand-alone garden piece or can be secured in concrete.
Choose from several sizes and heights to fit your needs for an entryway arbor.
Detailed Drawings are emailed within 5 business days. Simply enter the dimensions you think will work, and explore our wide range of customizable options. Try out a style with the set of dimensions you imagine is right, and proceed to checkout. From there, you can either request a quote or get started on the Design-to-Done process by placing a 1/3rd deposit. You don't have to get every detail figured out before you order-- That's where we come in with our 30+ years of experience to go through the process together. One of our Design Engineers will email you a set of drawings specific to your design, and together you will adjust each and every detail until you declare "It's perfect, let's build it."
All joints are notched so that your arbor will never sag, warp, twist, or shrink. Each timber is finely sanded to a smooth touch.
Every The Cantilevered Pergola is custom built. You can choose from our standard sizes and options. If you don't see a size or detail you'd like, just let us know.
Your Pergola is fully erected in the shop for easy re-assembly. No drilling, sanding or cutting needed. Just put it back up and enjoy.
We offer this kit along with all of our products with a lifetime guarantee and warranties for up to 30 years.
Materials that last a lifetime. From thick timbered, finely finished Redwood that outlasts teak & cedar with stainless steel hardware and the best weather resistant sealants.
This Pergolas Kits is easy to assemble and maintain. Ships in less than 15 parts with all the hardware.
Maintenance is hardly needed and very low-stress.
At Forever Redwood, we guarantee our products to last a lifetime and offer warranties up to 30 years. Our products are overbuilt: they can stand up to inclement weather as well as years of use. We can customize your specific kit based on your selections, and send it out to be assembled within a matter of days. If you prefer, we can assemble it for you. Give us a ring today to find out how.
DIMENSIONS & DRAWINGS
We customize our Pergolas to suit your needs. Just tell us what size and options you want. Prior to building, we provide our customers with a detailed set of drawings based on their initial choices and sizes. Our drawing process is the perfect tool to illustrate each and every detail and dimension. It allows you to double check every aspect to be sure it is exactly as you'd like before we begin to build. Drawings are emailed within 5 business days and we'll revise your drawings as much as needed to make sure that every issue is perfected prior to beginning construction.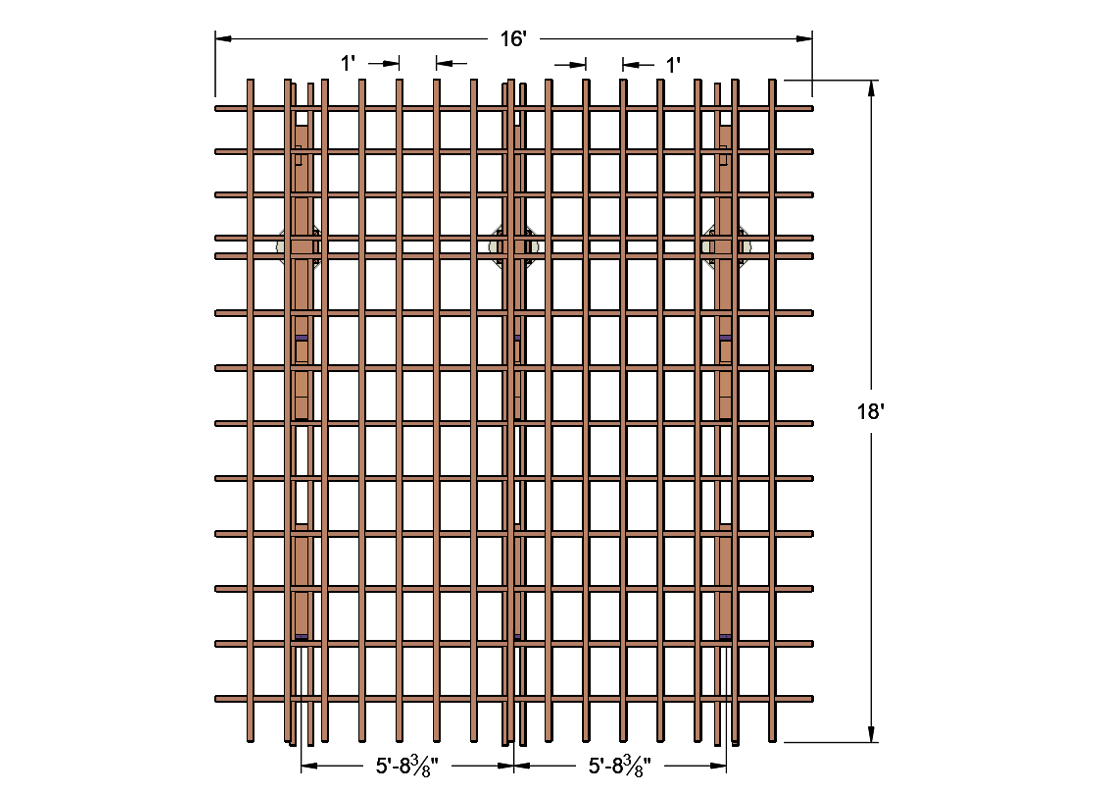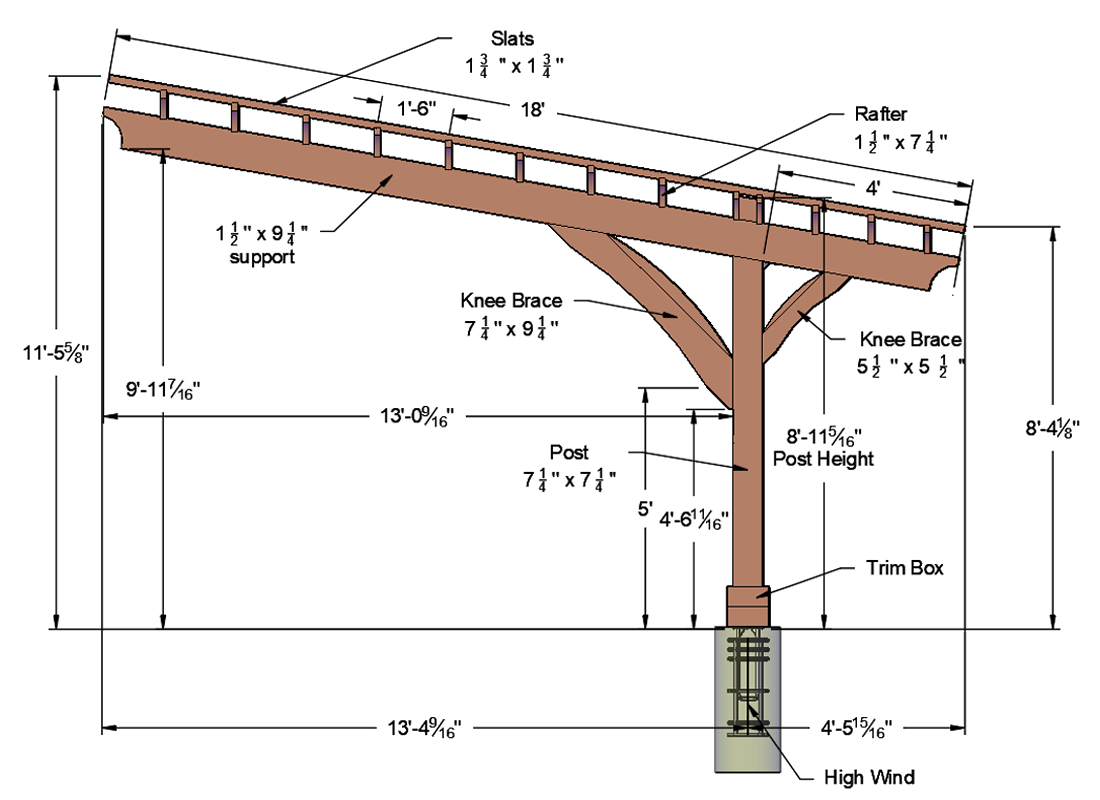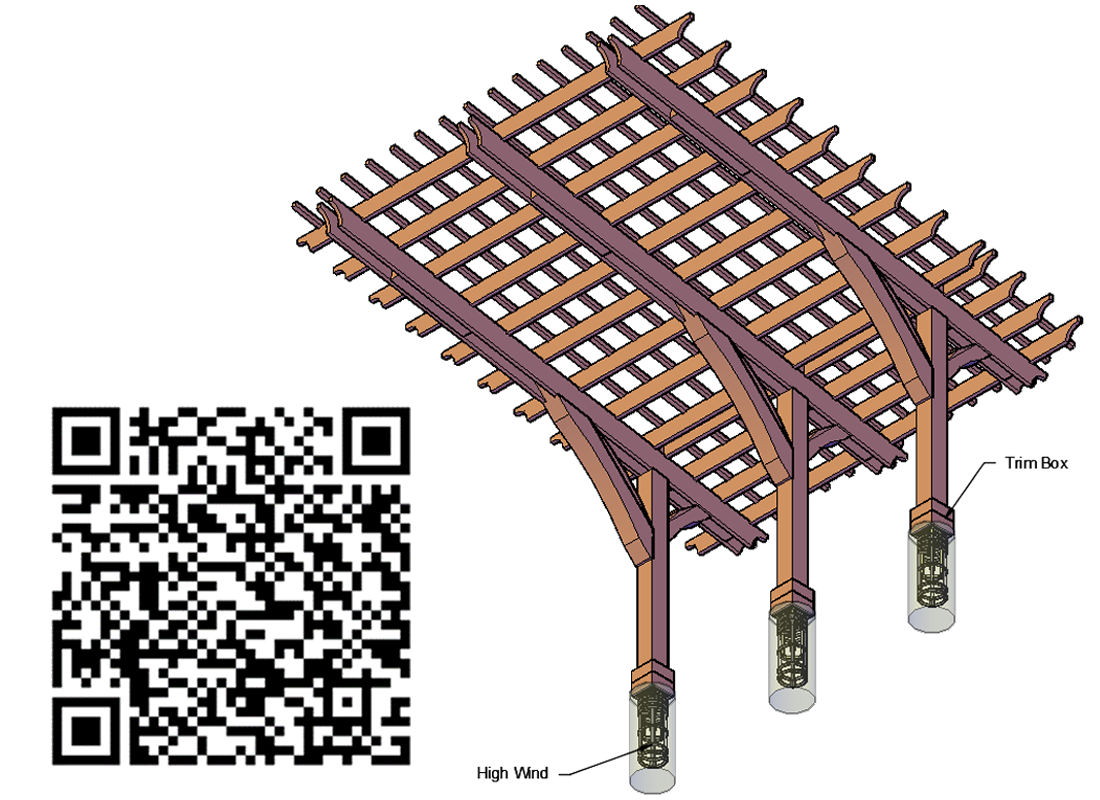 Assembly instructions for: The Cantilevered Pergola
Assembly instructions for: How to Anchor Your Pergola
All You Need is a Few Tools and a Friend.
Assembly is best done by two people over a half to full day depending on size. Pergolas require a ratchet, wrench, hammer and ladder. Some assemblies may require a drill to attach the posts into concrete. As with all of our products, we preassemble pergolas in our shop to ensure everything fits together. All hardware is included with clearly labeled parts. We also include detailed step-by-step instructions.
Take a look below at our assembly instructions for specific details. If you'd like a concrete pour to hold the posts, your project will require an additional half day prior to assembly. Please complete the concrete pour a few days prior to assembly to allow the concrete to cure.
Installation Help.
Special skills are not required to re-assemble our pergolas. If you would like help, just let us know. We have our own team for installations in California, Nevada and Southern Arizona, and a network of local contractors we recommend for farther afield.
Care: Your Forever Redwood Furniture will last for decades in year-round weather without maintenance.
Depending on the wood grade you choose, you should expect your furniture to last 10-40 years without maintenance even in climates with harsh, year round conditions.
Being outside year-round is rough on all wood finishings. The surface absorbs UV rays and pollution, there is a constant variation in moisture and temperature, and oxidization occurs. Over the years, most woods degrade and decay, and the surface color will slowly fade towards a silver patina. This is not the case with Forever Redwood. The silver patina is surface deep (less than 1/64") and is not indicative of decay. Your set will last decades and will not compromised in any way by surface color changes. We keep our display items as is without refinishing as examples to show off the natural aging process (we like the patina!).
Although Forever Redwood is maintenance-free, we recommended that you take a few minutes as needed to clean by either hosing down and/or brushing/dusting away accumulated debris (no soap or chemicals needed). If you'd like to keep your set looking its best for decades, please go to: Care and Finish.