The Palo Alto Cabin is available in standard sizes from 10' x 10' to 24' x 20'. We can build larger than 24' and custom sizing is also available.
Detailed Drawings are emailed within 5 business days. You can change any detail or dimension to ensure your Gazebo will work perfectly for you and your space. Once we receive your initial order and 1/3 deposit, one of our In-house Engineers will be assigned to your project, sending you custom drawings for your structure within 5 business days. Together, you will communicate back and forth. With our expertise and your dream vision, together we will make it real.
You can choose from our standard sizes and options, and if you don't see a size or detail you'd like, let us know.
You can add partitions for a bedroom/bathroom or a kitchenette. We encourage you to design all appliances and fixtures into your final drawings. This way, your cabin will be ready to add electrical and plumbing after installation is completed. Electrical and plumbing is best by local licensed plumbers and electricians.
You can add as many double paned windows as you like to the design. As long as you stick to standard sized and standard construction windows, pricing for your cabin doesn't change regardless of the amount and size of windows you add.
Our cabins are guaranteed to last 15 years but with minimal maintenance will last many decades. Each Palo Alto uses only a Redwood exterior: Redwood outlasts teak and cedar. We use oversized timbers, Stainless Steel hardware and the best weather resistant sealant.
Roofing: You have many options for your Gazebo's roof: you can have a shiplap roof (overlapping wooden roof boards), or you can choose a standard option like metal asphalt shingles. The shiplap roof is the traditional option, and is very beautiful although it requires regular cleaning and resealing while the standard roofing options like metal and asphalt hold up well for decades with only an occasional light power washing to clean up.
Strong and Sturdy: Solar panels are no issue to add on top. Our Wood Gazebo kits are strong enough in their standard design to withstand 60mph winds in most cases and a moderate snow load. If planned for a heavy snow or high wind area, we can add structural strength during the design phase.
You Install or We Install? Choose the White Glove Assembly as you check out to have one of our crews onsite to do the heavy lifting for you. Our White Glove Assembly is available in all 50 states. This service includes assembly, anchoring, and important additions like adding flashing, curtain rods and roofing. White Glove Assembly costs anywhere between 30-45% of the cost of your structure. We are happy to provide a specific quote for you during the Design process as we finalize the details together. If you have an old structure that needs to be taken down and disposed of, let us know. We can generally add this to the scope of work.
Turnaround Time & Financing: We can build in 2-3 weeks, but we recommend ordering 2-3 months in advance to give you time to fine tune each detail via our design and drawing process. You can take advantage of our 1/3rd deposit option to spread the cost over several monthly payments.
Bring back the Old Growth Forests: Your purchase supports restoration forestry projects in the Redwood Forests of Northern California. Find out more about how it is actually necessary to cut some trees down in order to recreate the Old Growth ecosystem!



THE PALO ALTO BACKYARD CABIN SPECIFICATIONS (PDF DOWNLOAD)
The Palo Alto Backyard Cabin is available from 10' to 24' Length and Width. The Length and Width are the overall wall measurements. The standard roof overhang beyond the walls is 12".
The standard insulation we ship with the Palo Alto Cabins is R-19 and the standard vapor barrier is 5 mm thick. We can upgrade the insulation during the design phase of your order to R-30 or whatever your local climate needs. You will only have to pay the difference in materials cost.
Each cabin is custom in some way and we encourage you to make it your own. The standard walls are built with 5 1/2" thick studs so you can add thicker insulation as needed. We can go thicker also if you wish. It is just one more variable you can adjust during design.
DIMENSIONS & DRAWINGS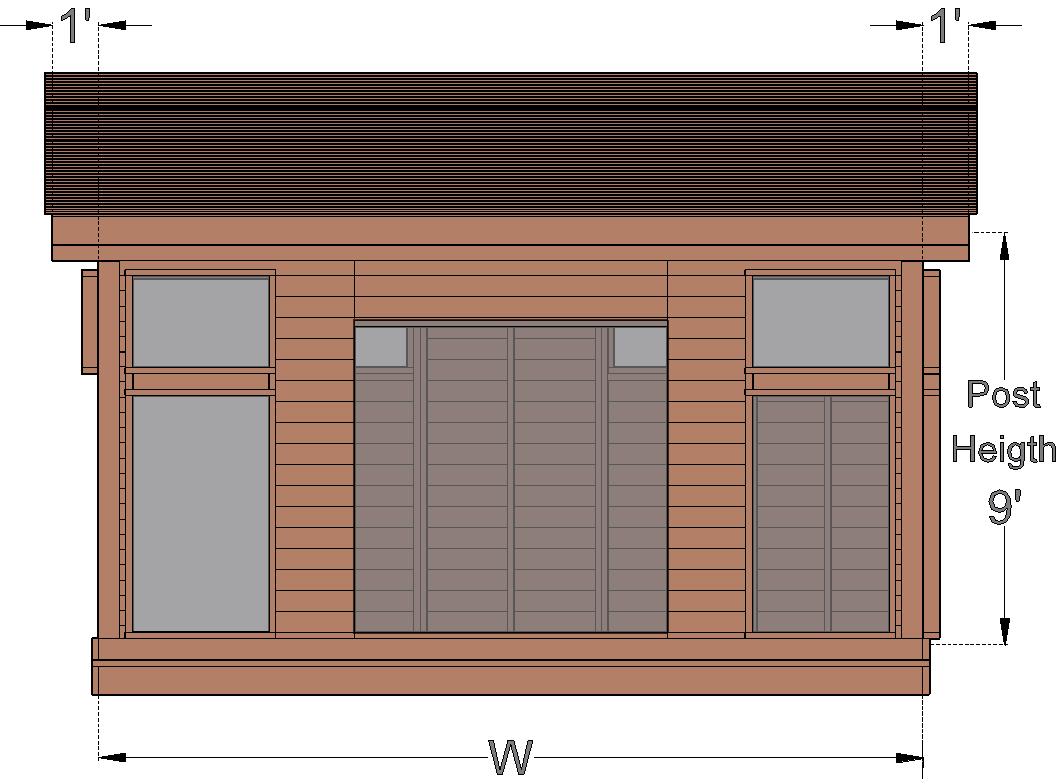 Front View - Deck Option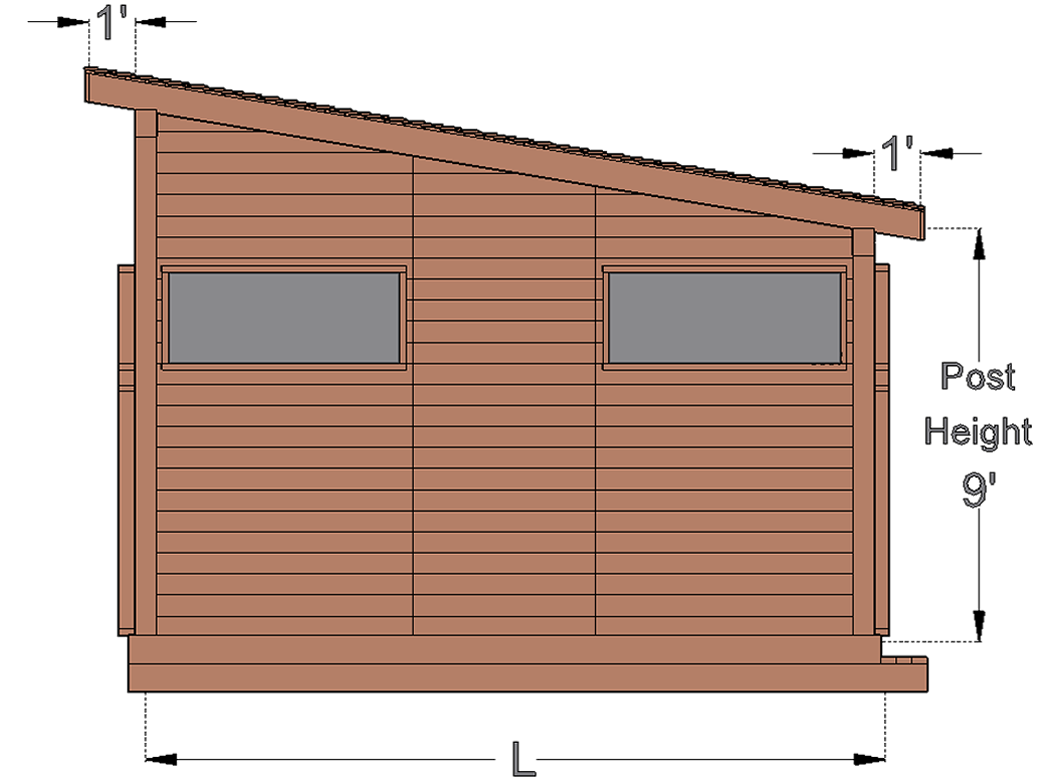 Side View - Deck Option
Front View - Deck & Porch Option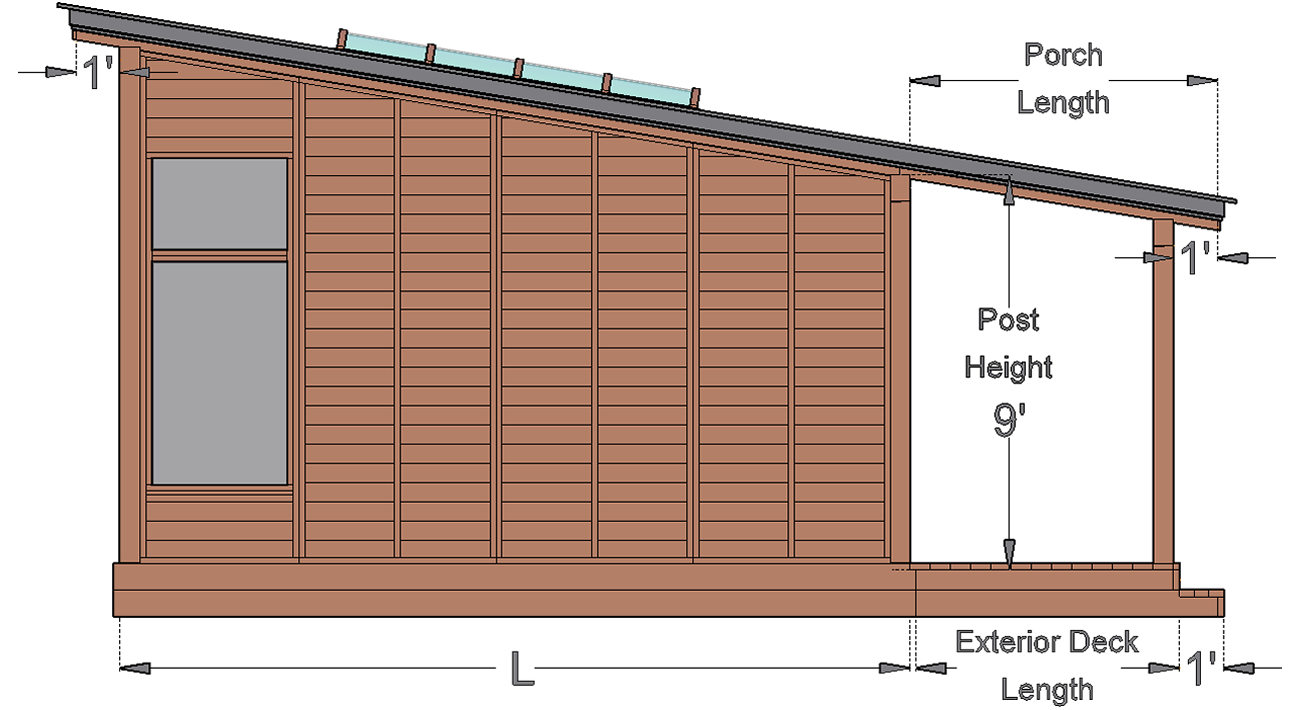 Side View - Deck & Porch Option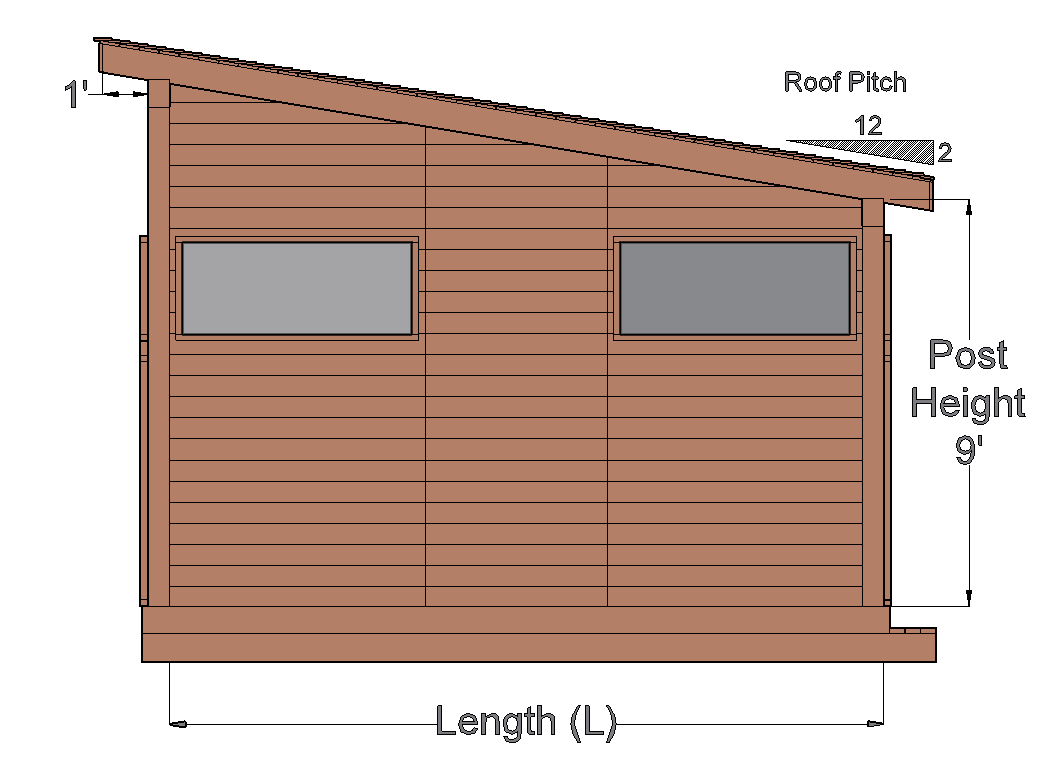 The Palo Alto Pitch Specs with out Porch & Skylight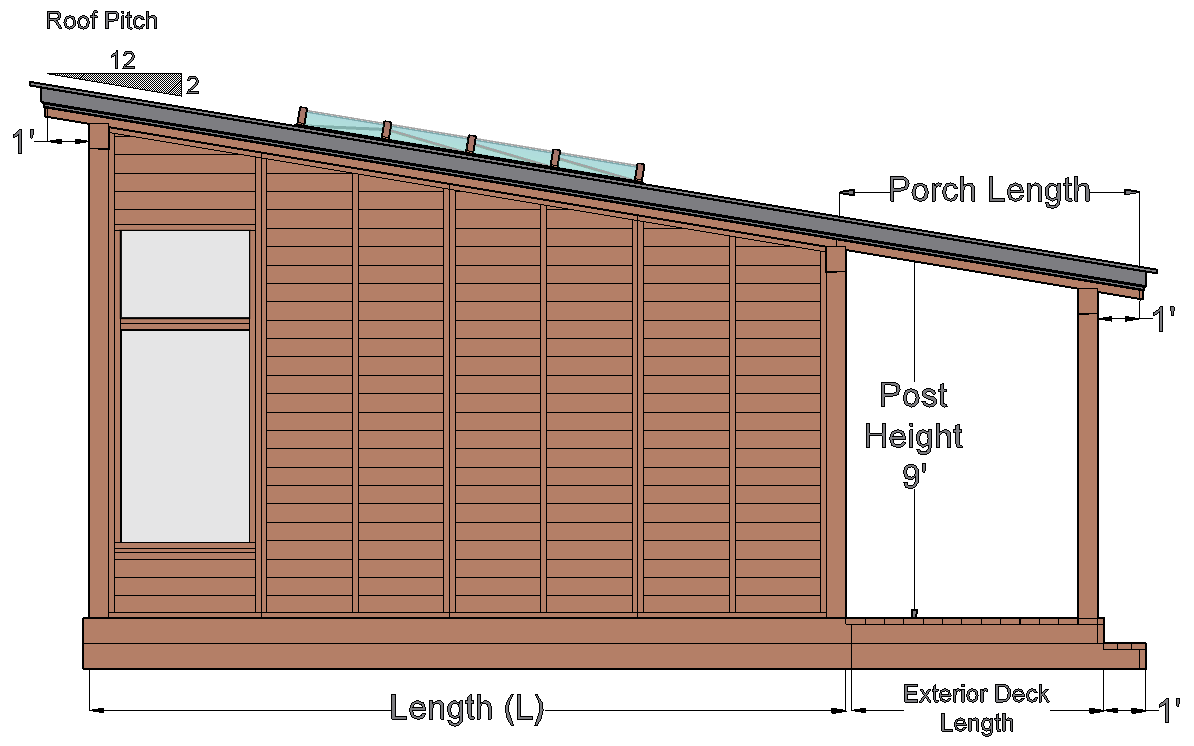 The Palo Alto Pitch Specs with Porch & Skylight
POST MEASUREMENTS
Length
Post Height (Front)
Tallest Post Height (Back)
14 ft
9 ft
11 ft
16 ft
9 ft
11.5 ft
18 ft
9 ft
12 ft
20 ft
9 ft
12.5 ft
Assembly Instructions for: The Palo Alto Backyard Cabin
Our White Glove Assembly is a complete onsite assembly and anchoring service. The cost varies between 25 - 35% of your structure's overall cost and includes all materials: footings work, concrete, equipment rental if needed, and standard roofing materials if needed. Our installation teams are now available in all 50 states!
DIY: For moderately-sized structures (up to 400 sqft.), some of our customers choose to save money by doing the assembly themselves. In general, the larger the structure, the more people and time you will need: we recommend a minimum of 3 people. If you have assembly questions, just give us a call!
Care: You should expect your furniture to last outside for a minimum of 10-40 years without maintenance, even in climates with harsh year-round conditions. Because of our high quality wood, the silver patina that will naturally occur is surface deep (less than 1/64") and is not indicative of decay. We keep our display items without refinishing as examples show off their natural aging. We like the patina! If you'd like to keep your set looking its best for decades please visit: Care and Finish.