The stability of our shade structures starts with our stainless steel anchor kits. We weld these critical components in-house using a labor-intensive process. In fact, our post anchors are so well-made that other businesses and vendors regularly ask to purchase them as a standalone product. While we're flattered, it is not practical for us to produce additional anchors as a stand-alone product.
We offer two different anchor options, a standard anchor kit and a high-wind anchor kit (rated to 150 mph).
Recently our high-wind anchor kits faced the kind of test we hope our clients never have to endure—a category 4 hurricane. On September 28, 2022, Hurricane Ian made landfall just west of Fort Myers, Fl. As the tragic devastation of the storm became apparent, we checked in with three of our customers whose homes were in Ian's path. We were deeply relieved to learn that they and their families were safe.
Additionally, all three customers shared the good news that their shade structures were intact, with either minimal or no damage. In each case, the structures were secured with Forever Redwood's high-wind anchor kits.
Here are their stories…
---
"Our Pavilion Sustained No Damage At All"
Del Norte Outdoor Kitchen Pavilion – Winds Up To 75 mph

Before (left) and after (right) Hurricane Ian.
Michelle Favret of Tampa, Florida lives 1.5 miles from the bay. When the mandatory evacuation call for Hurricane Ian was issued, she left behind her home and belongings and a Del Norte Outdoor Kitchen Pavilion that had been completed only five months earlier. "Ian was the first major storm since completion," Michelle wrote in a recent email exchange.
Like many coastal Floridians, Michelle has fortified her property with flood-resistant elements such as a French drain system that feeds into sump pumps. Her Del Norte Pavilion is situated ~12 ft. above sea level.
The 30ft x 15ft shade structure is built with California Redwood and finished with transparent premium sealant to highlight the wood's natural reddish hues. The custom design includes removable sections in the roof and back wall to accommodate a future fireplace. The posts are secured with Forever Redwood's high-wind anchor kit.
After the hurricane, Michelle returned to a yard strewn with debris, mainly fallen limbs from the property's eight grandfather oaks.
And the Del Norte?
"The pavilion sustained no damage at all," she reported.
---
"Trees Are Coming Down, But The Pergola Stands Strong"
Arched Pergola Kit – Winds 100-120 mph
Kimberley and Barry Fisher of Fort Myers, Florida delayed assembling their Arched Pergola Kit for as long possible, hoping to wait out the rainy season. The structure's design included a beautiful latticed roof with eight slats, Mature Redwood finished with transparent premium sealant, and a 4-post anchor kit for high winds.
"As luck would have it," Kim shared in an email, "we finished assembly on September 27th—in the rain." Ian struck the following day.
Despite winds that raged up to 120 mph, the pergola sustained minimal damage. "We can't say the same for our yard," Kim said. Sadly, she and Barry lost several giant oak trees, toppled by Ian's intense gusts.
The video below features footage Barry captured early in the storm…
"Trees are coming down, but the pergola stands strong," says Barry in the video.
After four days spent removing felled trees, mending fences, and patching holes in the roof, the electricity returned. Another two to three days would be needed to finish cleaning the wreckage in the yard. The upside? "A blank slate has been created, and Barry is excited to re-landscape," Kim said. 
Amazingly, Kim and Barry still managed to snap a photo for Forever Redwood's recent photo contest. "Staging this shot brought us a much needed break from clean up," Kim said. "We brought furniture out of storage, transplanted a few plants that survived and started a fire."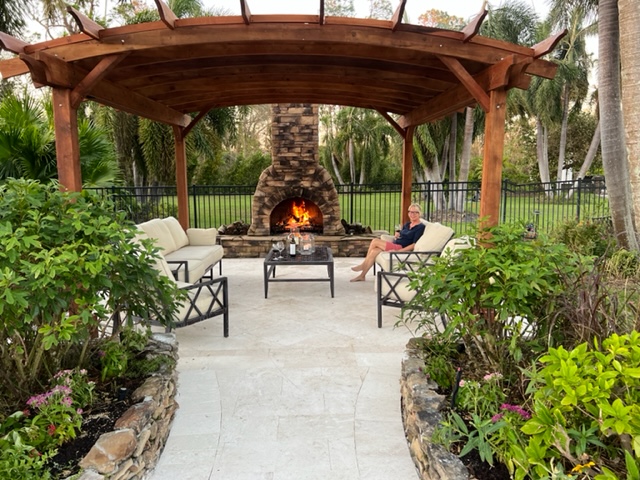 Kim and Barry's photo contest entry.
---
"Really Well Built "
Montvale Pergola – Winds Up To 90 mph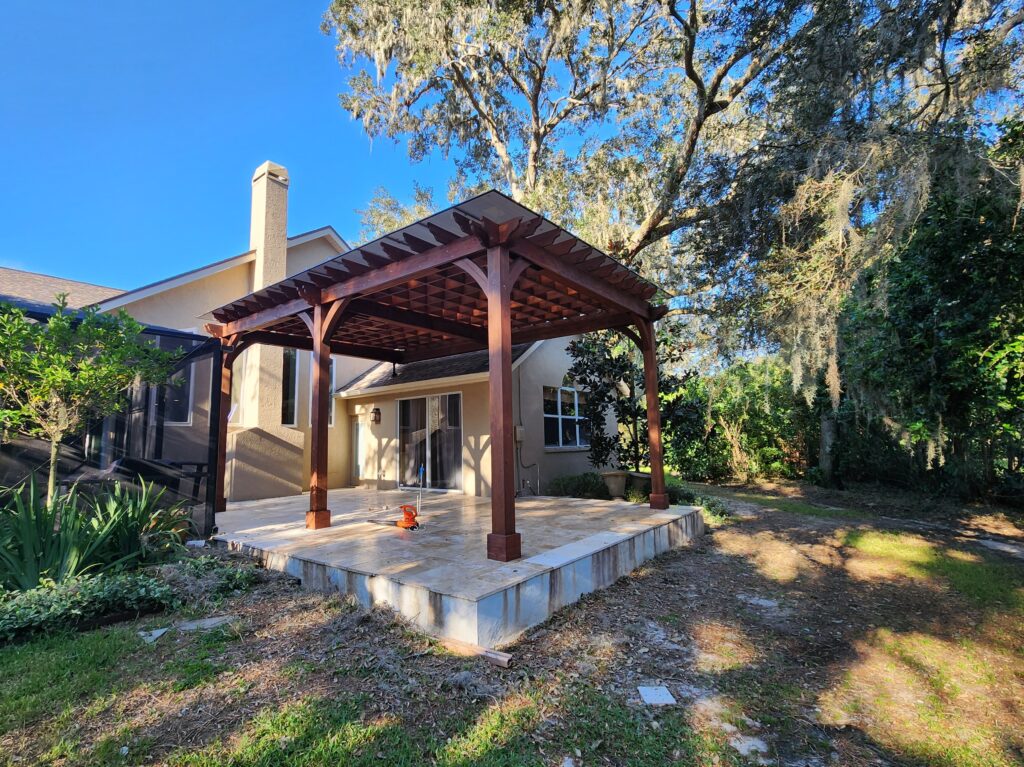 Elena and Derek Fournier of Valrico, Florida were midway through their home improvement project — a custom attached Montvale Pergola and outdoor kitchen — when Ian barreled through their region.
As Derek described in an email, "the outdoor kitchen [had] yet to be installed…That leaves our Montvale as a large structure with nothing under it yet."
Elena and Derek's 26ft x 18ft Montvale is constructed with California Redwood and finished with a rich, coffee-stain premium sealant. The elegant posts are secured with a high-wind anchor kit. A transparent rain guard spans the lattice roof.
As the storm approached, Derek felt some concern about the rain guard. "I was worried about it acting like a sail." But his fears were unfounded. Despite 90 mph winds, both the pergola and the rain guard came through with flying colors.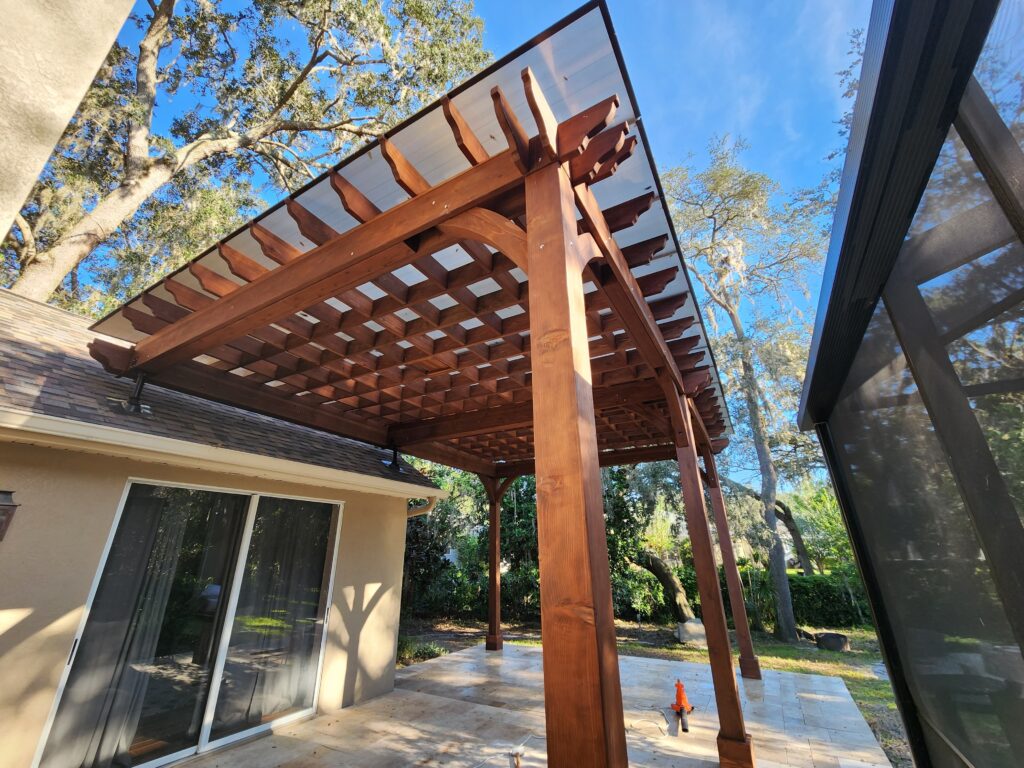 Pergola (with rain guard intact) after clean up is underway.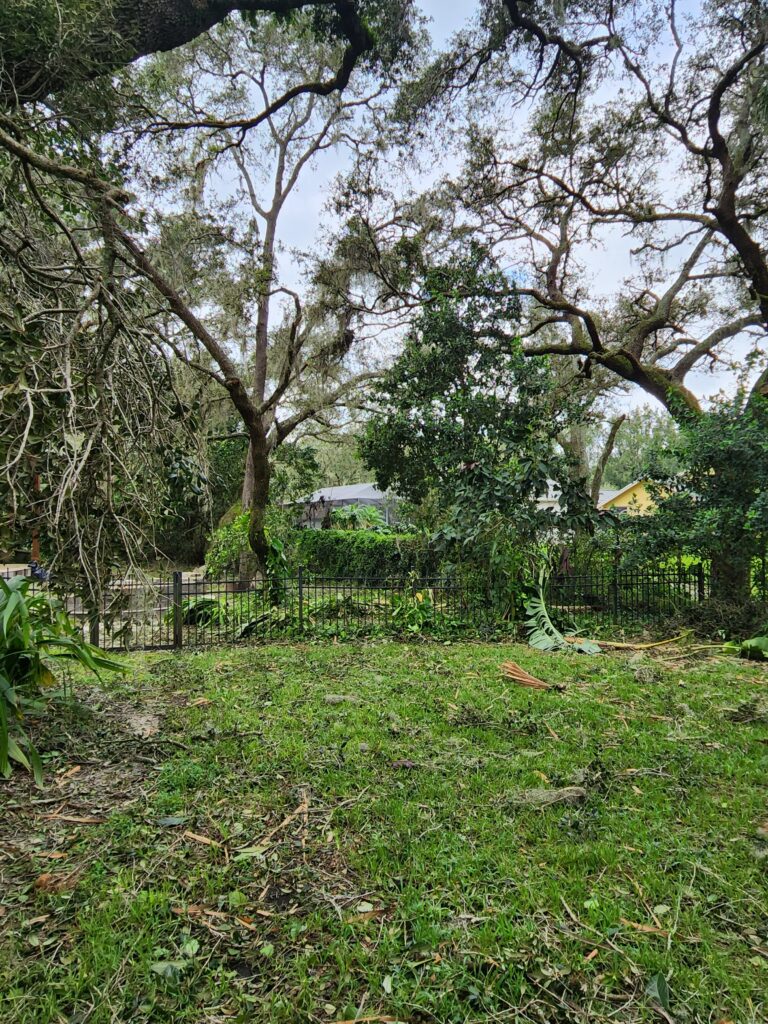 Elena and Derek's yard after Hurricane Ian.
Derek shared the below video clip of the pergola as the storm rips through the yard when winds were near 70 mph. He can be heard offering this positive report: "I'm under the structure and dry somehow. Probably because it was really well built."
Our warmest thanks to Michelle, Elena & Derek, and Kim & Barry for their generosity in sharing their Hurricane Ian stories, photos, and videos.