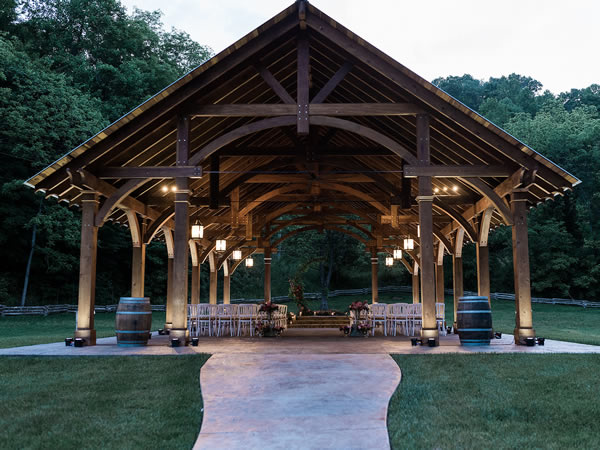 Over the years, Forever Redwood has created beautiful, long-lasting furniture and shade structures for homes, businesses, and public parks.
But did you know we also build and install shade structures for special events such as festivals, weddings, and even sports tournaments? Here are a few of our favorite projects…
Tournament Sizzles as a Modern Louvered Pergola Keeps Fans Cool
When a national sporting event relocated to a new venue, the organizers were determined to ensure a seamless transition. The player facilities and competitive areas had to be top notch. Equally important was the fan experience which included high-quality food and drink, entertainment and art, and plenty of comfortable spots for relaxing between matches.
Only weeks before opening, the organizers placed an urgent call to Forever Redwood. They'd discovered that one of their prime outdoor concession areas was exposed to intense sun. After listening to their needs, including how the fans would be using the structure, we suggested a Modern Louvered Pergola (photo above).
Despite the tight deadline, we completed the project on schedule. Order to installation took less than a month. Best of all, the easy-to-use design allowed fans to adjust the mobile louvers on their own.
Pop-up Pergola Finds a Permanent Home
We've also custom designed and installed structures for temporary use such as a pop-up beer hall at the South Street Seaport in downtown Manhattan. The beer hall lasted the summer, but the custom Garden Pergola has since become a permanent part of the Seaport's pedestrian mall.
Check it out next time you visit NYC! The post-Sandy rehabilitation of the area is impressive.
Forever Love Meets Forever Redwood
Some of our most gratifying projects involve outdoor weddings. Numerous lovers have tied the knot beneath our shade structures as friends and family looked on. Our pavilions offer the magic of exchanging vows in a beautiful outdoor setting without concern for inclement weather—and in a setting far superior to a cloth tent or other temporary structure.
These two Forever Redwood pavilions, the Cardinal's Nest and the Del Norte, serve as magnificent wedding venues:
Our ability to do custom work to fit the occasion has helped create truly special events! We'd be happy to talk to you about yours. Just call (866) 332-2403 or place your order online.