Terrace Round Wooden Table
A Round Wooden Card Table is a fun, yet practical way to improve your yard or patio space, and bring friends and family together for a good time. The design is simple and well stated with an easy to move frame and smooth, thick wood top. You can add matching chairs with your order, and it even has space for a canopy umbrella, if you'd like to put one there.
Custom detail or design? Talk to one of our specialists to get the perfect solution!
Learn More
Don't want to assemble? We can deliver and assemble anywhere in the Continental US.
Learn More
Our Round Wooden Card Table is available in a variety of sizes and wood types, and can be fully customizeable here on our site. You an also call us with your specifications, and set it all up over the phone if you'd like. These tables can stay on your patio year round, rain or shine, as they're built extra thick, and have no cheap materials or flimsy joints that will bend, rot, or wilt over time.
Our beautiful checkerboard tabletop contrasted with straight solid legs creates a stylish design ready to enhance your card games and entertaining for decades to come.
Available in sizes to seat 2 to 4 comfortably.
The terrace wooden table is fine balanced design between our standard overbuilt tables and our folding tables.
Tailor the wood table to your tastes easily with more options - chair styles, chair quantity, umbrella holes, stains/sealants, etc.
Materials to last a lifetime from our extra thick, finely sanded Redwood that outlasts cedar/teak to stainless hardware and the best weather resistant sealants.
Simple Assembly
Best of all, like all of our Forever Redwood tables and accessories, we offer a rock-solid warrantee of up to thirty years, and guarantee minimal to no maintenance on them during the time you have them. They are shipped right to your door, and can be assembled by you (or even us, if you live in CA) in just a few hours. Call now to get more details, and order yours today.
ROUND TERRACE TABLES SPECIFICATIONS (PDF DOWNLOAD)
Specifications has the following sections, any of which you may go to directly by clicking on it:
SEATING
All tables with Chair seating will come with Luna Armchairs unless an alternative chair style is selected in Advanced Options.
SEATING CAPACITY
Number of Adults Who Can Dine Comfortably
(Based on a std. 36" width table)
Table Diameter
Chairs
3.5 ft
2 to 4
4 ft.
4
DIMENSIONS & DRAWINGS
Round Terrace Tables Dimensions
Tabletops are either 42" or 48" Diameter x 30" or 31.25"H. Apron is 3.5"H. Legs are 2 3/4" x 2 3/4" timbers. Approx. weight of 42" table alone: 55 lbs. 48" table weighs 70 lbs.
42"

48"

Dining Chair Dimensions:
Massive Chair (Armless) Dimensions:
24 1/2"D x 23 3/4"W x 40 1/4"H. Seat is 16"H x 23 3/4" W x 18"D. Boards are fully 2" thick. Approx. Weight: 30 lbs
Ruth and Luna Chair (Armless) Dimensions:
23"D x 21 1/4"W x 39 1/2"H. Seat is 16"H x 21 1/4" W x 18"D. Boards are fully 2" thick. Approx. Weight: 25 lbs.
Armchair Dimensions:
Massive Armchair Dimensions:
27"D x 25 1/2"W x 40 1/4"H including armrests. Seat is 16"H x 23 3/4"W x 18" D. Armrests are 25.5"H from ground. Approx. Weight: 40 lbs.
Ruth Armchairs Dimensions:
23"D x 23"W x 39 1/4"H including armrests. Seat is 16" H X 20"W X 18" D. Armrests are 25.5"H from ground. Approx. Weight: 35 lbs.
Luna Armchairs Dimensions:
23"D x 22 1/2"W x 39 1/4"H including armrests. Seat is 16" H X 19 1/2"W X 18" D. Armrests are 25.5"H from ground. Approx. Weight: 35 lbs.
Advanced Options
CHAIR STYLES
For all with table sets with chairs, in Advanced Options you'll be able to choose between three different chair styles: Luna, Ruth or Massive and whether you want them with or without arms. The photo below shows L-R: Luna Armchair (Old-Growth Redwood), Ruth Armchair (Redwood), and Massive Armchair (Redwood). Our default chair style is the Ruth chair for our Rectangular tables.
Luna Chair
(Most popular for Round Tables)
Ruth Chair
(Most popular for Rectangular and Square Tables)
Massive Chair
LAZY SUSAN
A Lazy Susan is a revolving tray for foods, condiments, etc., placed usually at the center of a round table. You can choose between a 20" and a 25" diameter version. They are 3" tall.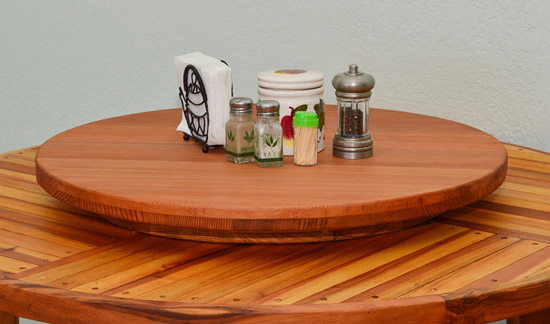 Notes:
1. UMBRELLA HOLE: If you order an Umbrella Hole with your table set and also order a Lazy Susan, your Lazy Susan will have the umbrella hole included as well.
2. LEAVE THE LAZY SUSAN OUTDOORS YEAR ROUND?: The Lazy Susan has a metal component that allows it to spin. Although this is protected by the wood, it is not recommended that the Lazy Susan be left outdoors year round. It is fine to leave out for days at a time, but for prolonged periods it is best stored indoors when not in use to protect the bearings within.
Assembly Instructions for: Terrace Round Wooden Table
Assembly Instructions for: Ruth Redwood Dining Chair
Assembly Instructions for: Luna Arch Back Wooden Chair
Assembly Instructions for: Massive Wood Rocking Chair
Ladderback Chairs ship fully assembled
Assembly
All you need is a ratchet wrench and a hammer.
Our furniture is preassembled in our wood working shop to ensure reassembly is a snap. The Round Terrace Tables require only a ratchet wrench and a small hammer to tap in the bolts. They ship in less than 10 parts and take less than 20 minutes to re-assemble and begin enjoying them. All parts are clearly labeled and detailed step by step instructions are included. They can easily be re-assembled by one person. To download assembly instructions for any of our items, please go to: Assembly
Care: Your Forever Redwood Furniture will last for decades in year-round weather without maintenance.
Depending on the wood grade you choose, even with harsh year-round outdoor conditions, you can expect your furniture to last from ten to forty years without maintenance of any kind.
Being outside year round is rough on any woods finish. The surface absorbs UV rays, pollution, constant variations in moisture and temperature and it also oxidizes. This is why most wood just doesnt hold up and the surface color slowly changes towards a silver patina over the years. But, with Forever Redwood, you dont have to worry. The silver patina is surface deep only (less than 1/64") and is not indicative of decay. Your set will last decades and is not compromised in any way by the surface color change. For example, we keep our display items as is without refinishing to show off this natural aging (we like the patina!).
Although Forever Redwood is maintenance-free, we recommended you take a few minutes as needed to clean by either hosing down and/or brushing/dusting away accumulated debris (no soap or chemicals needed). If youd like to keep your set looking its best for decades, please go to: Care and Finish
Sign In
New Customer
New to Forever Redwood? Create an account to get started today.
Create My Account