Easy Sizing/Options: Begin in the Build it Your Way section next to the main photo by entering the size you think will work for the space. Then, check the wood grades and other options. Each Pergola is built your way. Our dedicated team of Design Engineers stay with your ideas until you fall completely in love with the design. The Viking Pergola DIY kit can be freestanding or it can be attached to your home or building. Each detail can remain a standard option, or be customized as needed. If you want to add a detail or a size you do not see, just say the word.
Built to Last: We are a restorative forestry company. We hand select the best, fattest timbers from our forestlands for your project. Everything is over built with real wood and steel-- we never use plastic/vinyl/ compressed glue/plywood, flimsy hardware or nails. Nothing lasts longer outdoors than California Redwood. We have over 25 years experience building, shipping and installing shade structures all over the country.
Easy Design/Sizing Support: Our team of In-house Engineers will mock up a set of drawings unique to your order's specifications, and email them to you within 5 business days. With 20+ years of experience, we've honed our Design-to-Done process so that you can get your order started without having all the details figured out. Let us bring our expertise to the table-- together we can hone the details to give you the best of structure and style. Generally, just a few emails with your Design Engineer is all you will need to get every detail just the way you want. Start by choosing your favorite style and entering in the dimensions you think will work. Choose each of your options to the best of your knowledge and either request a quote or send in a 1/3 deposit to get the Design process started.
Details Matter: All joints are notched so that your Pergola will never sag, warp, twist, or shrink. Each timber is finely sanded for a silky smooth finish. We use the best sealants on the market. We make the best wood shade structures you can buy. Yes, your Pergola is sturdy enough to hold Solar Panels if you wish. Check out our competition carefully. Does any other manufacturer offer up to 30 year decay warranties?
You Install or We Install?: Once you sign off on your drawings, your Pergola is fully erected and finely finished in the shop. All the stainless steel hardware is included. Just bolt the timbers back together. See the Assembly & Care tab above for more information.
Our White Glove Assembly is available in all 50 states. If you'd like us to do the assembly for you, we can send our installation team anywhere in the US. Just choose the White Glove Assembly option as you check out. This service includes assembly, anchoring, and details like adding flashing, curtain rods and roofing. White Glove Assembly costs anywhere between 25-45% of the cost of your structure. We are happy to provide a specific quote for you during the Design process as we finalize the details together. If you have an old structure that needs to be taken down and disposed of, let us know. We can generally add this to the scope of work.
Turnaround Time & Financing: We can build in 2-3 weeks, but we recommend ordering 2-3 months in advance to give you time to fine tune each detail via our design and drawing process. You can take advantage of our 1/3rd deposit option to spread the cost over several monthly payments.




Questions? - Download the ebook "Everything you Wanted to Know about Pergolas" for answers to frequently asked questions or contact us.
VIKING PERGOLA DIY KITS SPECIFICATIONS (PDF DOWNLOAD)
GENERAL INFORMATION ABOUT PERMITTING FOR PERGOLAS AND PAVILIONS
DIMENSIONS & DRAWINGS
We customize our Pergolas to suit your needs. Just tell us what size and options you want. Prior to building, we provide our customers with a detailed set of drawings based on their initial choices and sizes. Our drawing process is the perfect tool to show you every detail and dimension from multiple angles. It gives you the freedom to visualize each detail, making sure that everything is exactly as you'd like before we get the go-ahead to begin building. Drawings are emailed within 5 business days, and we'll revise your drawings as much as needed to make sure all detail and sizing issues are perfected prior to beginning construction.

Viking Meet House Pergola 14 L x 12 W illustrative drawing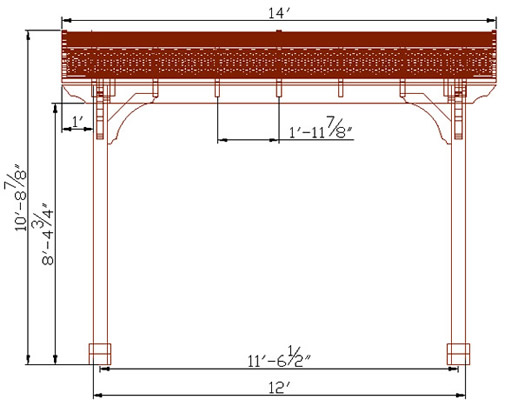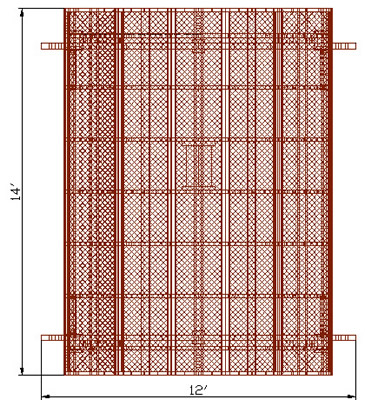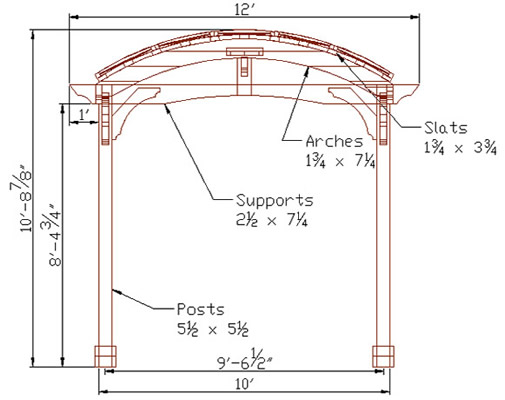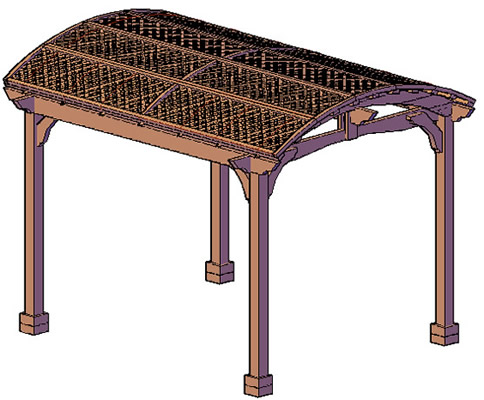 Structures over 16 ft have 6 x 6 posts with 3 x 8 supports and 2 x 8 rafters.
Structures 16 ft and shorter have 6 x 6 posts with 3 x 8 supports and 2 x 6 rafters.
If you prefer a different sizing or style write what you would like in the comments section or contact us.
Posts normally ship 9' long. 9 posts make the top of the roof 9' also and give you an 8' 4" clearance under the supports. About 90% of our pergola customers go with the default 9' post height. If you'd like your pergola taller or shorter, just select Other Height and write in what you would like in the comments section.
In most cases, the maximum roof size is 20' in either direction with a 4 post structure. The maximum span (with the standard timber sizes mentioned above) is 18' 2 1/2" on center between posts. Structures over 20' in any direction are built with an additional post to support roofs between 20 and 40 feet. For example, a 30' x 20' free standing pergola has 6 posts. If you wish to build the arched portion of the roof over 20 ft, with some design modifications, the arches can be expanded out to 28 ft without adding an additional post. Let us know if you require this type of design work.
Forever Redwood Pergola kits are completely assembled in the shop prior to shipping to be certain that everything fits together perfectly. All timbers are notched into one another to increase structural strength and to lock all your pergolas timbers in place so they will never sag, twist or move. There are hundreds of notches in the larger pergolas. Full notching is rarely practiced because it is labor intensive, but it is one of the secrets to a long lasting beautiful pergola.
All assembly hardware is included and is stainless steel.
Assembly Instructions for: Viking Pergola DIY Kits
Assembly Instructions for: How to Anchor Your Pergola
Our White Glove Assembly is a complete onsite assembly and anchoring service. The cost varies between 25 - 35% of your structure's overall cost and includes all materials: footings work, concrete, equipment rental if needed, and standard roofing materials if needed. Our installation teams are now available in all 50 states!
DIY: For moderately-sized structures (up to 400 sqft.), some of our customers choose to save money by doing the assembly themselves. In general, the larger the structure, the more people and time you will need: we recommend a minimum of 3 people. If you have assembly questions, just give us a call!
Care: You should expect your furniture to last outside for a minimum of 10-40 years without maintenance, even in climates with harsh year-round conditions. Because of our high quality wood, the silver patina that will naturally occur is surface deep (less than 1/64") and is not indicative of decay. We keep our display items without refinishing as examples show off their natural aging. We like the patina! If you'd like to keep your set looking its best for decades please visit: Care and Finish.