Much like the Northern California County that shares its name, our Marin Outdoor Pergola kit is truly one of a kind. Made with outdoor cooking in mind, it is a lovely way to frame, adorn and shade your BBQ area, pool bar, or outdoor kitchen. Like all our pergolas, you can customize and size it to fit your needs. Your assigned in-house architect will prepare drawings of your order and make revisions per your input until every detail is just the way you want it. Free nationwide shipping.
Our wood pergolas are excellent for shade and shelter. Create a Great Room to dine outdoors or just lounge by the pool under a handcrafted Redwood Pergola.
Kitchen Pergolas are either stand alone structures or they can be attached to your home or building.
Pergolas are fully erected in the shop for easy re-assembly. No drilling, sanding or cutting needed. Just put it back up and enjoy. 4 to 6 hour installations are the norm.
Detailed Drawings are emailed within 5 business days. You can change any detail or dimension to ensure your kitchen pergola will work perfectly for you.
Tailor your Outdoor Pergola with shading options, privacy screens, custom stains and more (see More Options).
Our Materials are guaranteed to last decades. Redwood outlasts teak and cedar. We use oversized timbers, Stainless Steel hardware and the best weather resistant sealant.
All joints are notched so your pergola will never sag, warp, twist, or shrink. Each timber is finely sanded to a smooth to the touch feel.
Every garden pergola kit is custom built. You can choose from our standard sizes and options or if you don't see a size or detail you'd like just let us know.
Our Forever Redwood products are all guaranteed to last for ages, with warranties of up to 30 years, depending on the product. Once you've chosen your size and dimensions, send us the info and we'll have a detailed plan sent back to you in 3 days. We build all of our products here in our studio, and send it to you ready to assemble, with practically no tools required. Give us a call to find out how we can get started on yours!
Questions? - Download our Pergola Booklet, Everything you Wanted to Know about Pergolas, for answers to frequently asked questions or please contact our Pergola Advisor. Thank you!
MARIN OUTDOOR KITCHEN PERGOLA SPECIFICATIONS (PDF DOWNLOAD)
GENERAL INFORMATION ABOUT PERMITTING FOR PERGOLAS AND PAVILIONS
DIMENSIONS & DRAWINGS
We can customize our Pergolas to suit your needs. Just tell us what size and what options you want. Prior to building, we provide our customers with a detailed set of drawings based on their initial choices and sizes. The drawings are the perfect tool to show you all the details and dimensions. It allows you to double check everything to be sure it is exactly as you'd like before it is built. Drawings are emailed within 5 business days and we'll revise your drawings as needed to make sure all details and sizing issues are perfected prior to beginning construction.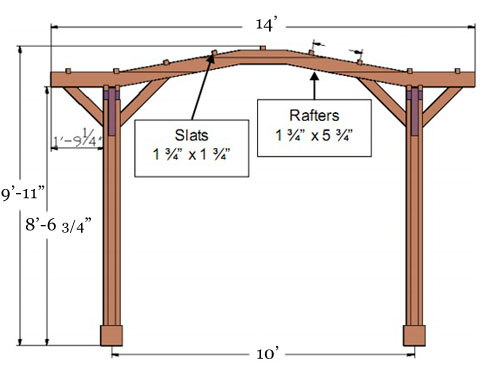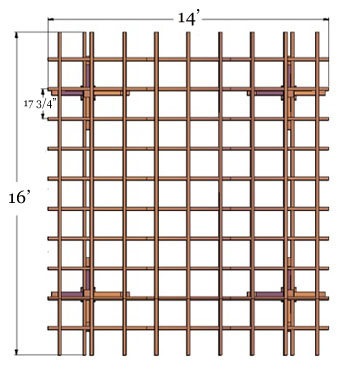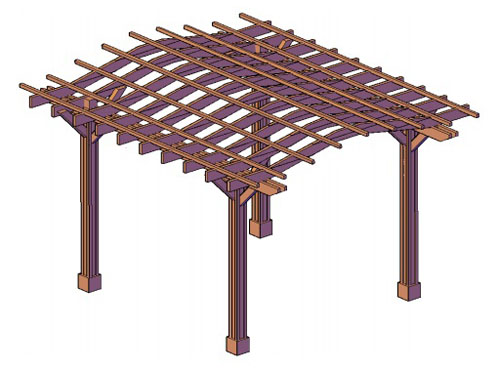 Corner posts are 5 1/2" by 5 1/2" (standard sized 6x6s) and are recessed 12" in from roof dimensions (This can be adjusted to meet your needs just let us know).
Roof support timbers (lintels) and rafters are 1 7/8" x 5 3/4". If you prefer a different sizing or style write what you would like in the comments section or contact us.
Posts normally ship 9' long. 9 posts make the top of the roof 9' also and give you an 8' 4" clearance ("ceiling height") under the rafters. About 90% of our pergola customers go with the default 9' post height. If you'd like your pergola taller or shorter, just select Other Height and write in what you would like in the comments section.
The maximum roof size is 20' in either direction with a 4 post structure. The maximum span (with the standard timber sizes mentioned above) is 18' 2 1/2" on center between posts. Structures over 20' in any direction are built with an additional post to support roofs between 20 and 40 feet. For example, a 30' x 20' free standing pergola has 6 posts.
| Pergola (Roof) Size (ft) | Approx. weight |
| --- | --- |
| 10 x 10 | 705 lbs. |
| 10 x 12 | 795 lbs. |
| 10 x 14 | 885 lbs. |
| 10 x 15 | 930 lbs. |
| 10 x 16 | 975 lbs. |
| 10 x 18 | 1065 lbs. |
| 10 x 20 | 1155 lbs. |
| 12 x 12 | 903 lbs. |
| 12 x 14 | 1011 lbs. |
| 12 x 15 | 1065 lbs. |
| 12 x 16 | 1119 lbs. |
| 12 x 18 | 1227 lbs. |
| 12 x 20 | 1335 lbs. |
| Pergola (Roof) Size (ft) | Approx. weight |
| --- | --- |
| 14 x 14 | 1137 lbs. |
| 14 x 16 | 1263 lbs. |
| 14 x 18 | 1389 lbs. |
| 14 x 20 | 1515 lbs. |
| 15 x 15 | 1268 lbs. |
| 15 x 18 | 1470 lbs. |
| 15 x 20 | 1605 lbs. |
| 16 x 16 | 1407 lbs. |
| 16 x 18 | 1551 lbs. |
| 16 x 20 | 1695 lbs. |
| 18 x 18 | 1713 lbs. |
| 18 x 20 | 1875 lbs. |
| 20 x 20 | 2055 lbs. |
Forever Redwood Pergola kits are completely assembled in the shop prior to shipping to be certain everything fits together perfectly. All timbers are notched into one another to increase structural strength and to lock all your pergolas timbers in place so they will never sag, twist or move. There are hundreds of notches in the larger pergolas. Full notching is rarely practiced because it is labor intensive, but it is one of the secrets to a long lasting beautiful pergola.
For additional long-term structural strength, we add solid timber blocking in-between the dual support timbers as shown in the drawing below. With this blocking, the dual supports are in effect converted into one solid 7 1/4 inch x 6 1/2 inch timber as shown below: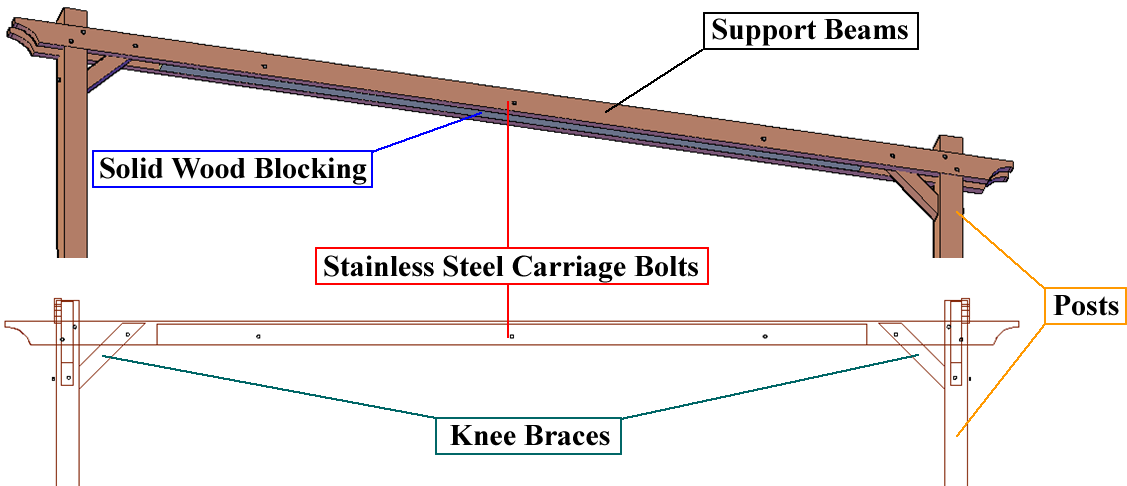 All assembly hardware is included and is stainless steel.
Assembly Instructions for: Marin Outdoor Kitchen Pergola
Assembly Instructions for: How to Anchor Your Pergola
All You Need is a Few Tools and a Friend.
Assembly is best done by two people and usually takes about half a day to a day, depending on size. Pergolas need a ratchet wrench, a hammer and a ladder to put them together. In some cases, you might need a drill to attach the posts into concrete. As with all our products, we preassemble pergolas in our shop to ensure everything fits together. All hardware is included and all parts are clearly labeled before it is shipped. We also include detailed step-by-step instructions.
Take a look at our assembly instructions below for specific details. If you plan to pour concrete to hold the posts, the project will require an additional half day prior to assembly. Please do the concrete pour a few days prior to assembly to allow the concrete to cure.
Installation Help.
Special talent is not required to re-assemble our pergolas. But, if you would like help, just let us know. We have our own team for installations in California, Nevada and Southern Arizona and a network of local contractors we recommend for farther afield.
Care: Your Forever Redwood Furniture will last for decades in year-round weather without maintenance.
Depending on the wood grade you choose, even with harsh year-round outdoor conditions, you can expect your furniture to last from ten to forty years without maintenance of any kind.
Being outside year-round is rough on any woods finish. The surface absorbs UV rays, pollution, constant variations in moisture and temperature and it also oxidizes. This is why most wood just doesn't hold up and the surface color slowly changes towards a silver patina over the years. But, with Forever Redwood, you don't have to worry. The silver patina is surface deep only (less than 1/64") and is not indicative of decay. Your set will last decades and is not compromised in any way by the surface color change. For example, we keep our display items as is without refinishing to show off this natural aging (we like the patina!).
Although Forever Redwood is maintenance-free, we recommended you take a few minutes as needed to clean by either hosing down and/or brushing/dusting away accumulated debris (no soap or chemicals needed). If you'd like to keep your set looking its best for decades, please go to: Care and Finish.