Kikue's Tea House
Yes! A real traditional Japanese Tea House! The gorgeous, supremely flexible design takes you from complete privacy to a sun-filled open pavilion in seconds.
Custom detail or design? Talk to one of our specialists to get the perfect solution!
Learn More
Don't want to assemble? We can deliver and assemble anywhere in the Continental US.
Learn More
Yes! A real traditional Kikue's Tea House! The gorgeous, supremely flexible design takes you from complete privacy to a sun-filled open pavilion in seconds.
The Kikue's Tea House can be made any size up to 16' x 16'.
Each Wall/window panel slides on its own track for maximum flexibility. You can have some or all the walls closed. Or, you can slide and stack the panels one behind the other and open up any wall as much as you like. You can also easily remove the panels to create an open pavilion on any or all sides.
The Kikue's Tea House is fully erected in the shop for easy re-assembly. No drilling, sanding or cutting needed. Ships in finished panels that bolt together.
Detailed Drawings are emailed within 3 business days. You can change any detail or dimension to ensure your Tea House is built the way you want.
You can choose from our standard sizes and options or if you don't see a size or detail you'd like, let us know.
Options include: Acrylic Window Color (Bronze tinted, White or Clear), Window screens and Wood flooring.
Our wood gazebo kits are guaranteed to last decades. Redwood outlasts teak and cedar. We use oversized timbers, Stainless Steel hardware and the best weather resistant sealant.
KIKUE'S TEA HOUSE SPECIFICATIONS (PDF DOWNLOAD)
Specifications has the following sections, any of which you may go to directly by clicking on it:
DIMENSIONS & DRAWINGS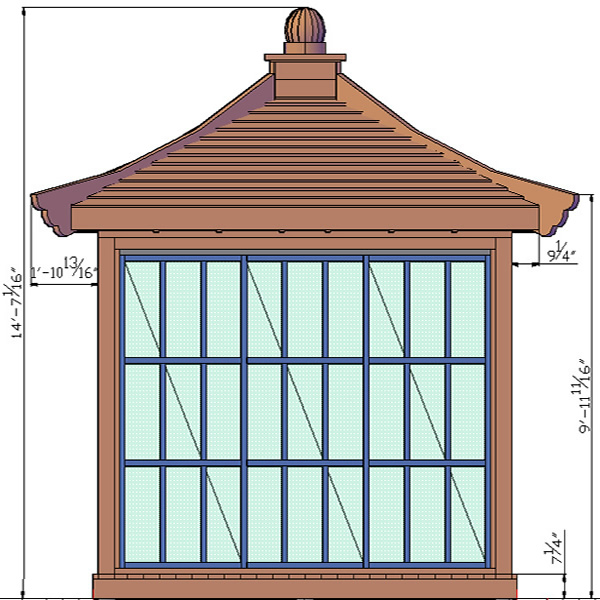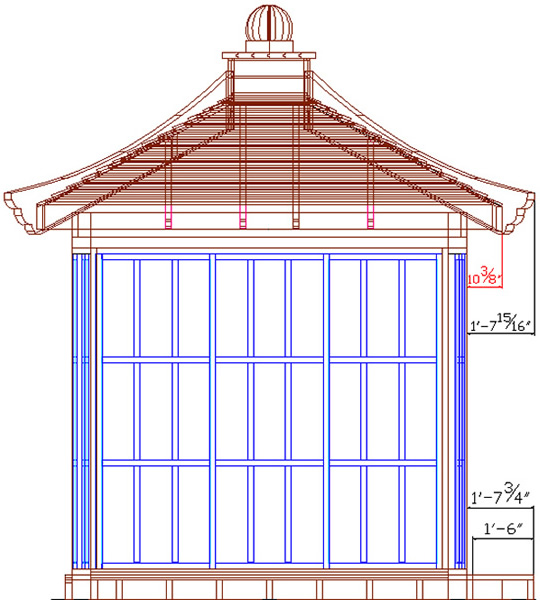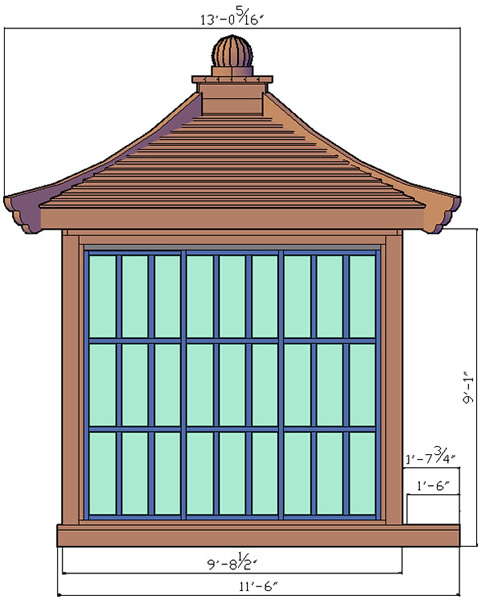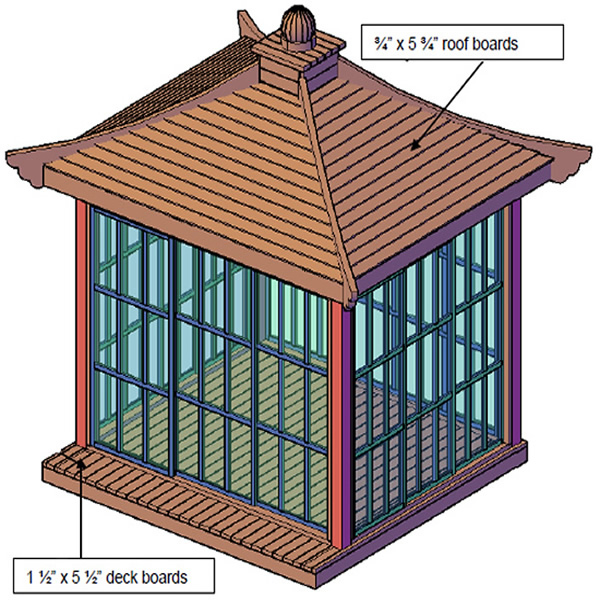 Our Kikue's Tea House has a floor security accessory to prevent any accident while you are going in or out from the Gazebo. When you are placing an order, please check this detail, the dimensions of the Gazebo do not included it, it is considerated part of the floor deck. If you do not want floor deck, considerate this floor security accesory as an external accessory.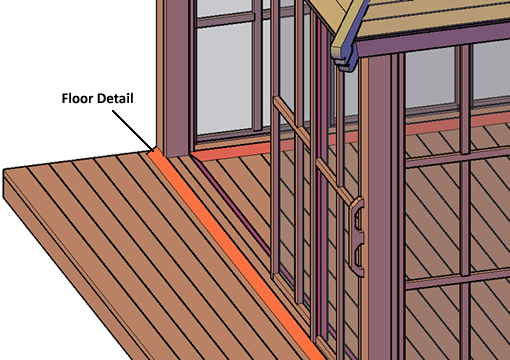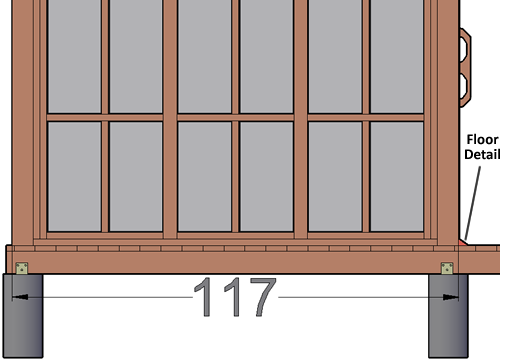 Advanced Options
WALLS/WINDOWS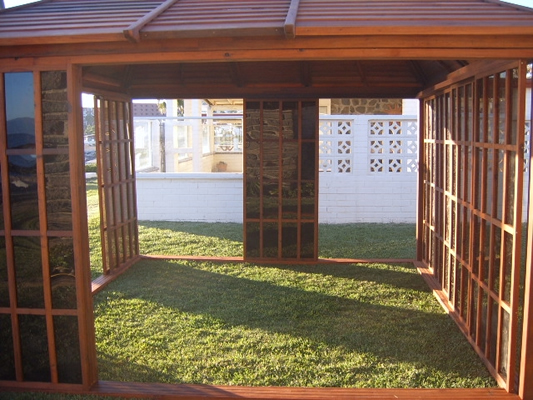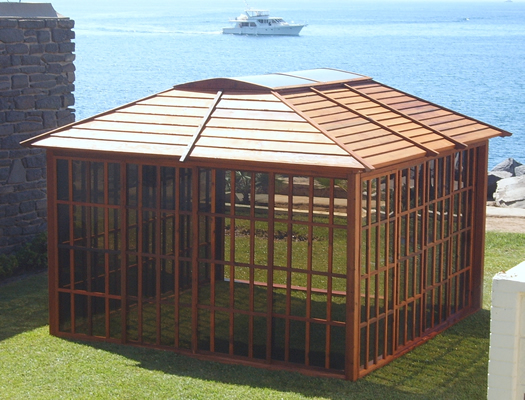 The Kikue's Tea House features walls that are sliding panels made entirely of windows for maximum light. Each panel sits on an independent rail so the panels can slide behind one another. Or, you can place all the wall panels on one rail to create a solid wall on one plane.
The frame of The Kikue's Tea House is strong enough that you can even remove all (or some) of the wall panels and have an open "pavilion" for certain occasions. This is a very versatile design. Height of walls is 7 feet.
Standard Height is 7' (see drawings below). We can customize our gazebos to suit your needs. Just tell us what size and what options you want. Prior to building any Gazebo, we provide our customers with a detailed drawing based on their proposed features. This lets you review any choices made and make any needed adjustments before it is built. Drawings are a great way to make certain all details have been considered and that your Gazebo will be exactly what you dreamed of.
Sample of Kikue's Tea House Wall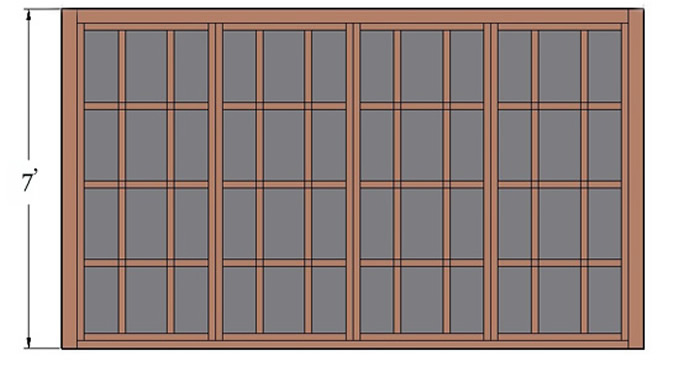 The windows are semi-transparent tinted bronze acrylic allowing visibility while adding privacy and blocking the sun. Acrylic will not fade.
If you want a gazebo without any walls just the open pavilion-style framework plus roof, please contact us for pricing (you will save between 20% to 30% depending on the size).
SCREEN WALL PANELS
Also available for purchase are screen wall panels for your structure. These can be popped in place of or behind the acrylic window panels; they are the same size. The acrylic window panels each slide on their own individual rails, but can also be removed. If you would like to configure an all screen wall, the gazebos up to 10 x 10 in size use 3 panels per wall (12 total panels), while gazebos over 10 x 10 size use 4 panels per wall (16 total panels).
OPEN GAZEBO OPTION
If you're looking for an open-air wooden pavilion, you can order The Kikue's Tea House without the wall panels at a 25% cost reduction. Contact us and we'll be glad to help you.
Assembly Instructions for: Kikue's Tea House
Assembly
Assembly is a 1 day process. Each gazebo is pre-assembled in our shop and all parts are clearly labeled and a step by step installation guides is included.
Installation Help
Though we think just about anyone could follow our instruction and install a gazebo, we understand if that's not for you. If you would like help, contact us. We have our own team for installations in California, Nevada and Southern Arizona. We also have a network of local contractors we recommend for locations farther afield.
If you have assembly questions, email or call us. And, in the unlikely event a part arrives broken, let us know and we will quickly ship a replacement part.
Care: Your Forever Redwood Furniture will last for decades in year-round weather without maintenance.
Depending on the wood grade you choose, even with harsh year-round outdoor conditions, you can expect your furniture to last from ten to forty years without maintenance of any kind.
Being outside year round is rough on any woods finish. The surface absorbs UV rays, pollution, constant variations in moisture and temperature and it also oxidizes. This is why most wood just doesnt hold up and the surface color slowly changes towards a silver patina over the years. But, with Forever Redwood, you dont have to worry. The silver patina is surface deep only (less than 1/64") and is not indicative of decay. Your set will last decades and is not compromised in any way by the surface color change. For example, we keep our display items as is without refinishing to show off this natural aging (we like the patina!).
Although Forever Redwood is maintenance-free, we recommended you take a few minutes as needed to clean by either hosing down and/or brushing/dusting away accumulated debris (no soap or chemicals needed). If youd like to keep your set looking its best for decades, please go to: Care and Finish
Keep the colors looking vibrant for decades
A quick power washing every 5 to 10 years clears away the accumulated grim, UV surface burning and the old sealant in a few minutes. When power washing be careful not to spray close to the surface or you may cut into the grain of the wood. Once dry, go over any rough spots to smooth out and ready for sealing. Youll need $2 and 10 minutes to do it. Pick up 2 sheets of sandpaper (one 100 grit and one 220 grit). Go over the spots with 100 grit for ten strokes or so and dust off. Then do the same with the fine 220 grit. Redwood sands easily. Dust off and youre ready for sealing.
Sign In
New Customer
New to Forever Redwood? Create an account to get started today.
Create My Account