Scroll down to see dozens of interactive designs our team of architects has put together over the year for Custom Pavilions. Dream big, dream small, dream perfect for your new outdoor space. You can truly customize every detail: our team will work with you through each step of the process until you have a foolproof design plan to satisfy your desires. You can even send in pictures of your backyard from different angles so that our team can superimpose the architectural plans onto your photographs.
Any Size: Each pavilion is built exactly to meet your needs. Choose a standard size, or select the custom size option. In the photos above, you will see examples of our outdoor pavilions from 8' to 60' built and installed all over the country.
Will Last Decades: We insist on thick timber construction, extensive notching, and other overbuilding details so you don't have to worry about harsh weather conditions like high winds, snow and humidity. For Pavilions and other large outdoor structures, we offer warranties up to 20 years.
Meet our Team of In-House Engineers: To get started, simply enter in the dimensions you think will work for your dream structure and proceed to checkout. Don't worry about getting every detail just right! Once you checkout and we receive your initial deposit, the Design-to-Done process begins. One of our In-House Engineers will be assigned to you and will email you within a business day to get the process started. You can expect an initial set of drawings detailing your structure within 5 business days. You can make as many changes as you need to get things right by going back and forth with your Engineer until you are completely satisfied. We won't start building your structure until you give us the final word! We recommend you set aside a month for the Design process so that you can clearly see how everything will fit together. We don't charge extra for the Design-to-Done process because it is the backbone of our promise to give you exactly what you want!
You Install or We Install?: Each kit is fully composed and erected in the shop for easy re-assembly. No drilling, sanding or cutting necessary. Simply bolt the pieces back together.
Our White Glove Assembly is available in all 50 states: Let us do the installation for you. This service includes assembly, anchoring, and details like adding flashing, curtain rods and roofing. White Glove Assembly costs anywhere between 25-45% of the cost of your structure. We are happy to provide a specific quote for you during the Design process as we finalize the details together. If you have an old structure that needs to be taken down and disposed of, let us know. We can generally add this to the scope of work.
Financing Help: We design and build quickly, however we recommend that you begin your order 2-3 months in advance. This window will allow you the time to design and review all the details. We provide a 1/3rd deposit option with 3 monthly payments so that you can take advantage of our extensive design process with a minimal cost upfront.
Outdoor Kitchen or Living Space? Wood pavilion kits are ideal for outdoor kitchens and living spaces, and can be designed around existing or planned kitchens.
Add Roofing of your Choice: Every aspect of this Pavilion is yours to customize, including roofing. When you choose our White Glove Assembly, $4 per square foot of roofing materials is automatically included, and is more than enough to cover the costs of standard asphalt shingles or metal roofing. 95% of our customers choose a standard roof in a color and style that matches their existing home. Other options include copper, wooden shingles or tile. Some even choose to swap out part of all of the tongue and groove ceiling for a polycarbonate roof. If you'd like a premium roofing material, or if you're doing the install yourself and would like to include roofing in your order, just let us know. Do you envision solar panels on your roof? Solar panels require no extra reinforcement. All of our Pavilions and Pergolas can hold solar panels and we can always adjust the roof pitch to accommodate your vision. With over 25 years of experience, we are here to make your dreams come true and your structures safe, sound, and ready to last decades.
Questions? Download our ebook "Everything you Wanted to Know about Pergolas & Pavilions" for answers to frequently asked questions or please contact us.
CUSTOM WOOD PAVILION KITS SPECIFICATIONS (PDF DOWNLOAD)
GENERAL INFORMATION ABOUT PERMITTING FOR PERGOLAS AND PAVILIONS
DIMENSIONS & DRAWINGS (PROVIDED PRIOR TO CONSTRUCTION)
Any Custom Pavilion are available in lengths from 10' to 40' and widths from 8' to 24'. The length and width are the overall roof measurements. The standard roof overhang is 12".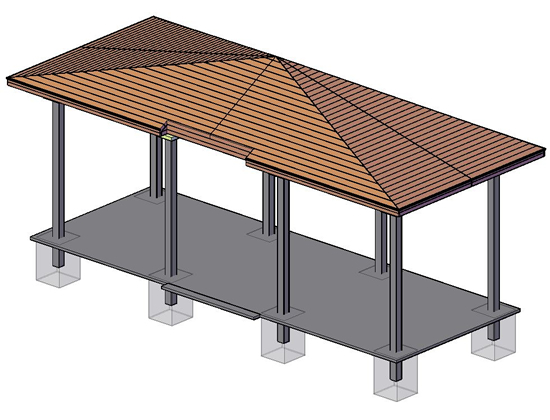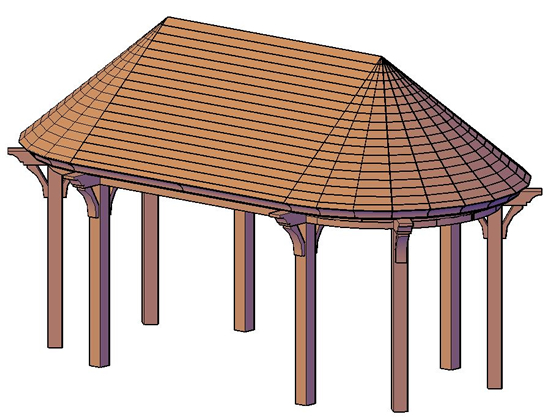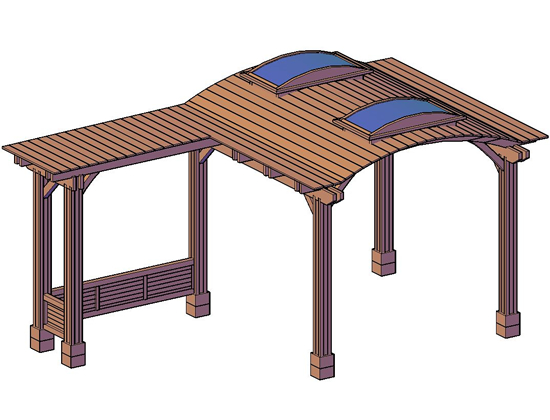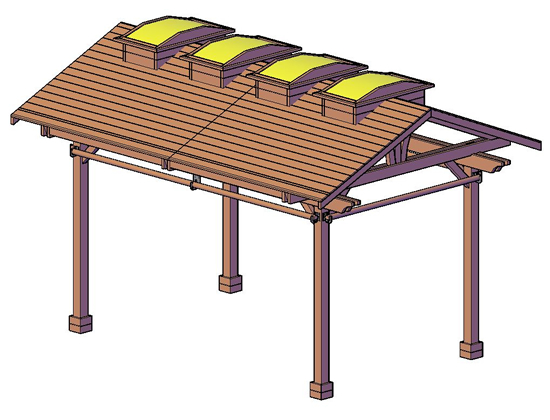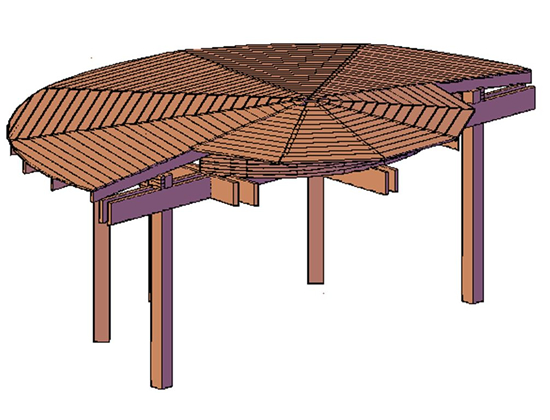 TIMBER SIZE
Timber Size:
Dual Supports at 1 3/4" x 7 1/4" (vs fat dual supports at 9 1/4" each)
Posts at 5 1/2" x 5 1/2" (vs fat posts at 7 1/4" x 7 1/4")
Rafters at 1 3/4" x 5 1/2"(vs fat rafters at 1 3/4" x 7 1/4")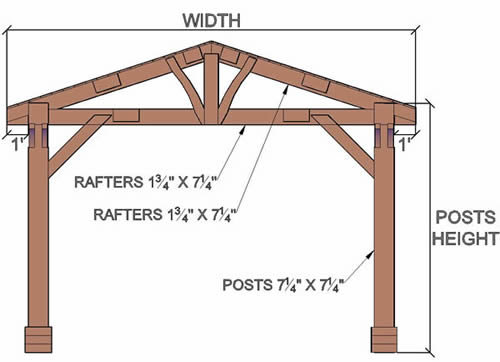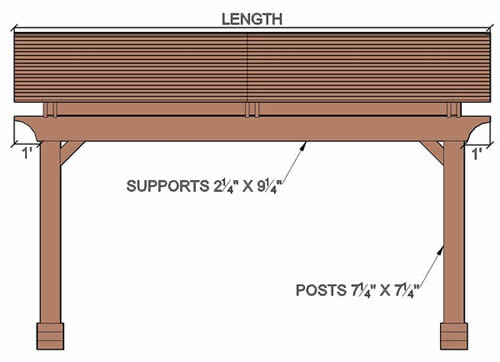 Assembly Instructions for: Del Norte Outdoor Kitchen Pavilion
Assembly Instructions for: Backyard Pavilion Kits
Assembly Instructions for: The Stoa Pavilions
Assembly Instructions for: Asian Fusion Pavilion
Assembly Instructions for: Hot Tub Enclosure Kits/ Hot Tub Pavilions
Assembly Instructions for: Park Pavilion
Assembly Instructions for: Patio Pavilion
Assembly Instructions for: How to Anchor Your Pavilion
Our White Glove Assembly is a complete onsite assembly and anchoring service. The cost varies between 25 - 35% of your structure's overall cost and includes all materials: footings work, concrete, equipment rental if needed, and standard roofing materials if needed. Our installation teams are now available in all 50 states!
DIY: For moderately-sized structures (up to 400 sqft.), some of our customers choose to save money by doing the assembly themselves. In general, the larger the structure, the more people and time you will need: we recommend a minimum of 3 people. If you have assembly questions, just give us a call!
Care: You should expect your furniture to last outside for a minimum of 10-40 years without maintenance, even in climates with harsh year-round conditions. Because of our high quality wood, the silver patina that will naturally occur is surface deep (less than 1/64") and is not indicative of decay. We keep our display items without refinishing as examples show off their natural aging. We like the patina! If you'd like to keep your set looking its best for decades please visit: Care and Finish.